A squadron of Mi-24 helicopters of the Czech Air Force is expected in Ukraine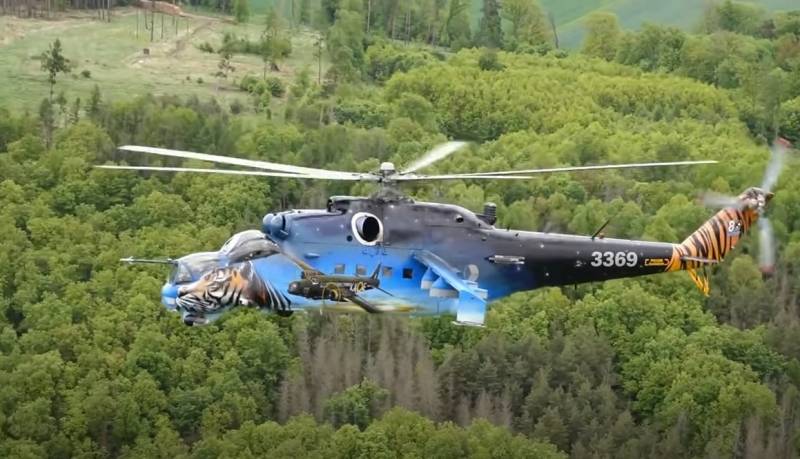 On October 14, a farewell ceremony took place in the Czech Republic for the Mi-24/35 helicopters, to be replaced by Bell AH-1Z Viper and UH-1Y Venom rotorcraft (10 units each) from the United States. This event was attended by 250 people from among the pilots and technicians who worked with these machines.
This brought tears to my eyes. Something with which a piece of life was connected is leaving
- said one of the former Mi-24 pilots, whose words are quoted in the publication CZDefence.
In total, the USSR supplied Czechoslovakia with 31 Mi-24s. Russia subsequently transferred 17 Mi-35s to the Czech Republic as part of the payment of Soviet debt. While in the service of Prague, these helicopters did not take part in any military campaign.
Some of the vehicles ended up in the Afghan National Army; their fate is unknown today. Today, decommissioned Mi-24s are sent to Ukraine, where, judging by videos from the front, they are immediately involved in hostilities. However, their fate is also unknown
- says the publication.
"Face" of the army
aviation
Until recently, the Czech Republic was the Tiger Squadron. It was formed in the 1990s and consisted of Mi-24s covered with picturesque images of the said animal. After the Mi-24/35 were put out of action, these "Tigers" should soon be expected to be in service with the Armed Forces of Ukraine: the Ukrainian press is already rubbing their hands, anticipating the appearance of such colorful machines.