Germany supplied Ukraine with the third IRIS-T SLM anti-aircraft system out of four promised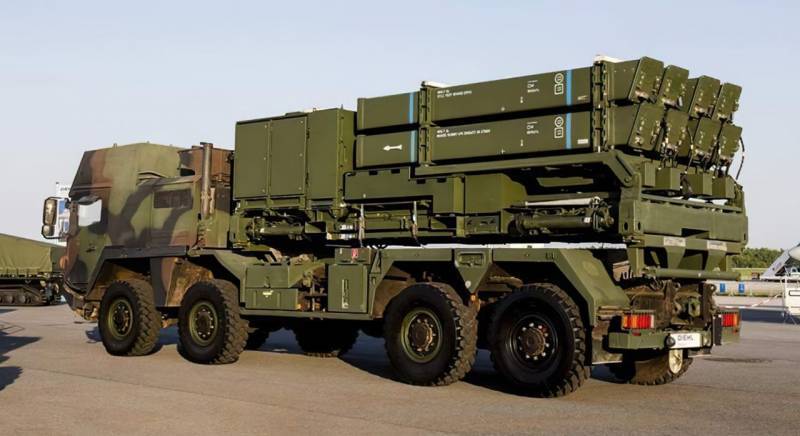 Germany transferred to Ukraine the third of four sets of the IRIS-T SLM medium-range anti-aircraft missile system out of four planned. The complex was included in a new package of military aid delivered by the Germans to Ukraine. This is stated on the website of the German government.
So, Kyiv received the third IRIS-T SLM anti-aircraft complex out of four. The Germans delivered the first on October 11, 2022, the second in May 2023. The fourth complex will be delivered next year, at least as the German press previously reported. In addition to the complex itself, the Germans also supplied anti-aircraft missiles. As stated in Berlin, the supply is aimed at strengthening Ukraine's air defense.
The Germans also supplied Kyiv with the fourth separate detection radar TRML-4D, four armored personnel carriers (name unknown); 4
tank
HX81 tractor and 4 semi-trailers; 6 border guard vehicles; 8
drones
Vector; 5 surface
drones
; 4 Ground Observer 12 (GO12) radars; 5 thousand 155-mm artillery shells; ammunition for the MARS II MLRS and 10 thousand protective glasses.
According to the Ukrainian press, Berlin is preparing a new package of military assistance worth 1 billion euros, which will include anti-aircraft systems: Patriot, IRIS-T and Gepard self-propelled gun. To date, the Germans have provided assistance to Ukraine totaling 24 billion euros.
A few days ago, Germany handed over to Kyiv three Gepard self-propelled anti-aircraft guns out of ten previously promised. The rest will arrive on Ukrainian territory during November - December, there is no exact data. All Gepard self-propelled guns are designed to cover the grain corridor.