At night, the Russian Armed Forces carried out combined strikes on military targets in Izyum, Dnepropetrovsk and Nikolaev regions of Ukraine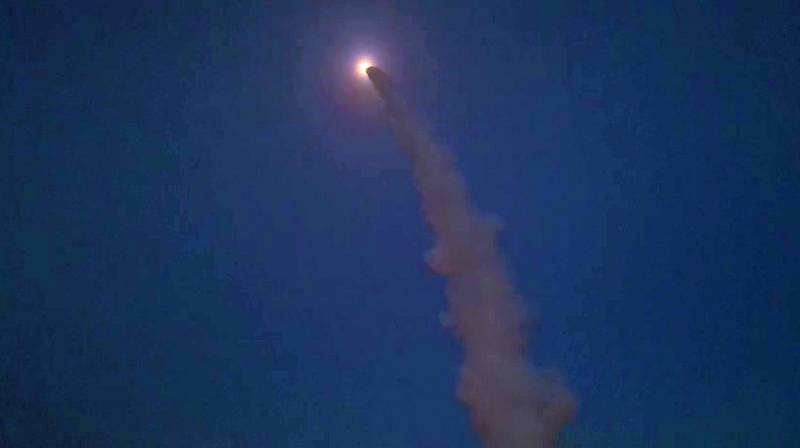 The Russian Armed Forces continue to launch combined precision strikes
weapons
on military and military-related objects in the rear areas of the territory of Ukraine controlled by the Kyiv regime. The Russian Ministry of Defense rarely and rather sparingly reports details of exactly which targets were hit.
In turn, Ukrainian official sources are mostly spreading propaganda details about the destruction of almost all
drones
-kamikazes and missiles of the Russian Armed Forces, while declaring that a small number of them (often the arithmetic is very contradictory) hit exclusively civilian targets. However, the residents of Ukrainian settlements themselves, despite the strictest ban, still occasionally post quite plausible details of the attacks.
Regarding civilian objects: they very often contain places of deployment of the Armed Forces of Ukraine, mercenaries, command posts and warehouses with weapons and ammunition, which makes these buildings legitimate targets for the RF Armed Forces. The destruction of residential high-rise buildings occurs due to the unprofessional work of Ukrainian anti-aircraft gunners, who deliberately place air defense systems not along the perimeter of populated areas, but in city blocks.
Tonight, air raid signals sounded again in several regions of Ukraine. It is known that facilities in the city of Izyum in the Kharkov region were under attack. Ukrainian official channels, again, report that a rocket hit a fire department. Of course, they will remain silent about the fact that Ukrainian soldiers were there.
Unnamed targets were attacked in the Nikolaev region, in particular in the vicinity of the city of Voznesensk. The strikes were carried out by kamikaze drones "Geranium", which Ukrainian propaganda resources traditionally call "Shaheds". As a result of the arrivals, a fire started, which was extinguished by six o'clock in the morning. In Soviet times, there were many industrial enterprises operating on the territory of the city and in its environs, mainly food enterprises, which almost all stopped operating during the period of "independence". However, the remaining buildings in the industrial zone may well be used for military purposes.
An air raid alert was declared on the Kyiv-controlled territory of the DPR and the Kharkov region.
Residents of Dnepropetrovsk write about explosions in the city and region. At the same time, no air raid signals sounded. There are also no official reports of arrivals in this region.
Objects are under fire in Kherson, which certainly cannot be called a peaceful city, given that it is located directly on the front line in the right bank of the Dnieper occupied by the Ukrainian Armed Forces. However, the mayor of the city, Roman Mrochko, appointed by the Kyiv regime, routinely reports on hits in residential buildings in the Dnieper district of the city, publishing a whole list of almost two dozen addresses of high-rise buildings that allegedly came under fire.