The army aviation of the Russian Aerospace Forces began to receive serial heavy Mi-26T2V helicopters.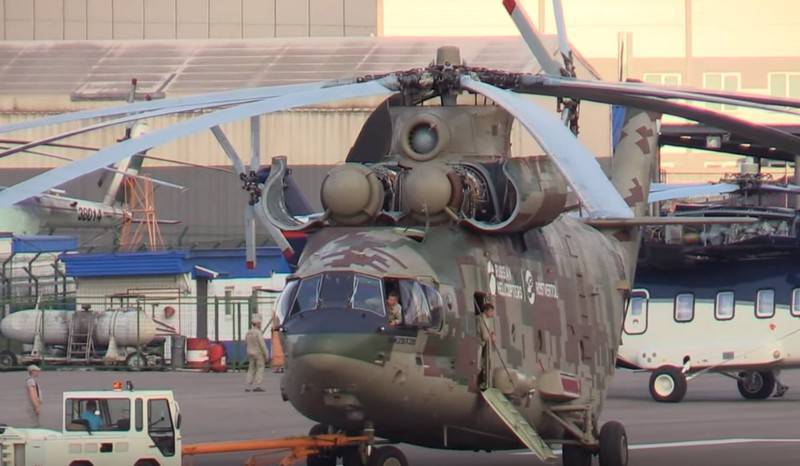 Army
aviation
The Russian Aerospace Forces has begun to receive serial heavy Mi-26T2V helicopters; the delivery of the modernized helicopter is on schedule and without disruption. This was announced by the head of army aviation, Igor Romanov.
The Russian defense industry is fully coping with state defense orders, despite the conduct of a special military operation. Helicopter deliveries are being carried out on schedule and without disruption; this year the army aviation of the Russian Aerospace Forces has been replenished with new helicopters, including the serial heavy Mi-26T2V. Romanov did not name the number of helicopters entering service, but at the first stage the Ministry of Defense planned to order at least 10 Mi-26T2V. At least, such information was announced earlier.
The army aviation fleet is updated annually due to the arrival of new and modernized aircraft. (...) This year we have already received and continue to receive helicopters Ka-52M, Mi-28NM, Mi-8AMTSh-V, Mi-8MTV-5M, as well as Mi-26T2V
- Romanov said in an interview with the newspaper
"A red star"
.
The first flight of the modernized Mi-26T2V helicopter took place in August 2018, and preliminary tests, which confirmed the characteristics inherent in the machine, were completed in January 2019.
The new Mi-26T2V helicopter differs from the basic Mi-26 model in the presence of an integrated set of onboard radio-electronic equipment, capable of automatically flying along a route, reaching a predetermined point, landing, as well as pre-landing maneuvering and returning to the main or alternate airfields. In addition, the helicopter is equipped with a digital flight system and the Vitebsk airborne defense system. With a maximum take-off weight of up to 56 tons, the helicopter can lift 20 tons of cargo into the air, both inside the cabin and on an external sling.