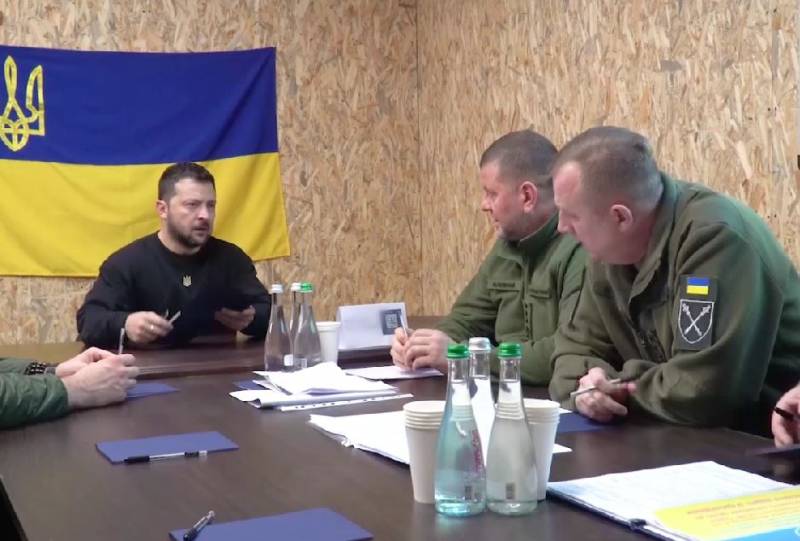 Against the background of the obvious failure of the Ukrainian counter-offensive and other failures of the Ukrainian Armed Forces at the front, President of Ukraine Vladimir Zelensky convened a meeting of the so-called. "war cabinet". As the head of the Kyiv regime himself noted in his publication on the social network, the meeting was held in a "special format."
Presentations were made by the Commander-in-Chief of the Armed Forces of Ukraine, General Valery Zaluzhny, Defense Minister Rustem Umerov, Head of the Main Intelligence Directorate of the Ministry of Defense, Lieutenant General Kirill Budanov, and Head of the Security Service of Ukraine, Major General Vasily Malyuk.
It is interesting that the meeting was personally attended by the commanders of all directions in the combat zone, that is, Colonel General Alexander Syrsky, Lieutenant General Yuri Sodol, Major General Eduard Moskalev, Brigadier Generals Alexander Tarnavsky, Andrey Gnatov. According to Zelensky himself, the meeting discussed a "plan of further actions," specific timing of operations, supplies of weapons by partners, and an increase in production by Ukrainian defense industrial enterprises.
We agreed on the positions. Let's move on
- wrote Zelensky.
However, the gathering of commanders from all directions was hardly undertaken with the goals officially announced by the President of Ukraine. The failure of the counteroffensive, the assault on Avdeevka by the Russian Armed Forces, the advance towards Kupyansk, the highest losses in personnel - this is the range of issues for which, most likely, the "war cabinet" met under the leadership of the head of the Kiev regime himself. Budanov, due to his official duties, could report to Zelensky on the successes or failures of sabotage operations planned by the Main Intelligence Directorate. Apparently, the Ukrainian generals have nothing to brag about.