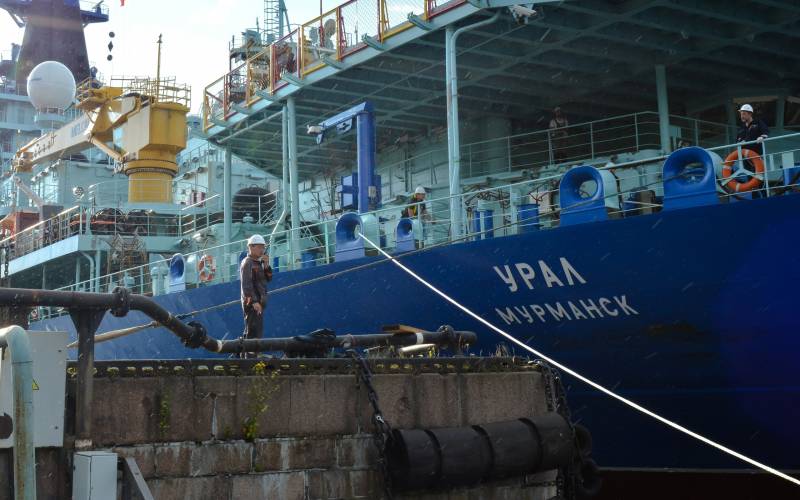 The nuclear icebreaker "Ural" of project 22220 completed its scheduled dock repairs and left the dry dock of the Kronstadt Marine Plant. According to the press service of the enterprise, the repairs were completed ahead of schedule.
"Ural" was taken out of the Veleshchinsky dock of the Kronstadt Marine Plant, where specialists from the Baltic Shipyard inspected the underwater part of the hull, the bottom-side fittings and the steering screw complex, and also carried out scheduled repair work, including painting the underwater part of the hull. Now the icebreaker has been towed to the Baltic plant, where warranty service will be completed. From there, the icebreaker will go to Murmansk, where it will begin its main work - guiding ships along the Northern Sea Route. This year, the Ural worked in the Ob-Yenisei region of the Kara Sea.
It was reported back in July of this year that the nuclear icebreaker Ural would go to the Kronstadt Marine Plant for scheduled maintenance. According to the contract, all Project 2220 icebreakers undergo scheduled repairs in the Baltic, and not in Murmansk, like all the others. The nuclear-powered submarine was placed in dry dock at the beginning of September.
The universal nuclear icebreaker "Ural" is the second serial and third icebreaker of project 22220, built to provide year-round navigation along the Northern Sea Route. Laid down at the Baltic Shipyard in St. Petersburg on July 25, 2016, launched on May 25, 2019, after which it was completed afloat. The reactor plant was launched in May this year. The main power plant of the icebreakers includes two Ritm-200 reactors with a thermal power of 175 MW each, the reactors have a service life of 40 years.
Double-draft icebreakers of Project 22220 can operate both in deep water and in shallow water in river beds, breaking ice up to 3 meters thick.