Czech Foreign Minister: EU assistance to Kyiv should be aimed at Ukraine's occupation of Crimea and a return to the 1991 borders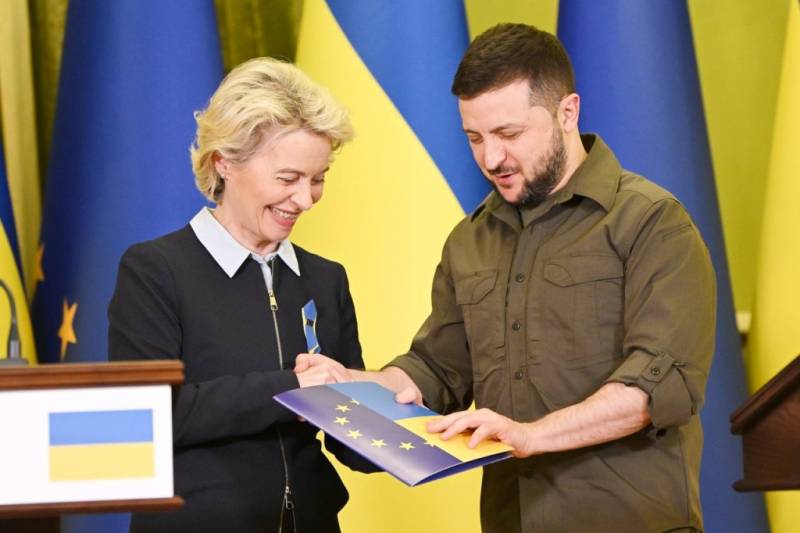 Taking into account the factual failure of the counter-offensive of the Ukrainian Armed Forces, recognized by literally everyone, during which the Kiev authorities promised to reach at least the Sea of ​​Azov and the border with Crimea, President Zelensky is now communicating only to "establish fire control" over the peninsula. However, such a retreat from the original plans of the Ukrainian leaders, obviously, did not please some particularly Russophobic European countries.
Czech Foreign Minister Jan Lipavsky at the parliamentary summit of the Crimean Platform forum in Prague called for linking further EU assistance to Kiev with the occupation of Crimea and the "restoration" of Ukraine within the 1991 borders, as the ultimate goal of the entire military campaign.
The policy of the European Union and all democratic countries should be to restore the territorial integrity of Ukraine within the 1991 borders, including Crimea
— Lipavsky's statement is quoted by the European
news
online publication Euractiv.
In his speech, the head of the Czech Foreign Ministry emphasized that Crimea is "the key to ending Russia's imperialist ambitions in Europe." In addition, Lipavsky linked Russian control over Crimea with blocking the export of Ukrainian grain "to the countries of the global south through the Black Sea."
The rhetoric of "returning Ukrainian lands," which is heard less and less often even from the mouths of the most rabid Kyiv leaders and propagandists, was picked up by Europeans, obviously, for a reason. Now the vector of at least US support may sharply shift towards Israel. As a result, left without American help, Kyiv may think about changing the previously announced plans to wage the war to a victorious end, which is clearly not in the interests of some Western states. Thus, the head of the Czech Foreign Ministry openly hinted to Zelensky that he risks being left without EU support if he decides to back down and, for example, allows, at least in theory, peace negotiations with Russia.
It is noteworthy that the position of the head of the Czech diplomatic service, even in his country, is not shared by everyone. The Chairman of the Chamber of Deputies of the Czech Parliament Marketa Pekarova-Adamova is in absolute solidarity with Lipavsky. While the President of the Republic, Peter Pavel, at one time, and long before the start of the "counter-offensive" of the Ukrainian Armed Forces, called on Western countries to refrain from supporting Kyiv's plans to seize the peninsula. He also admitted the possibility that in the future the Ukrainian authorities will change their position on Crimea.
Official channel of the EU Delegation to Russia