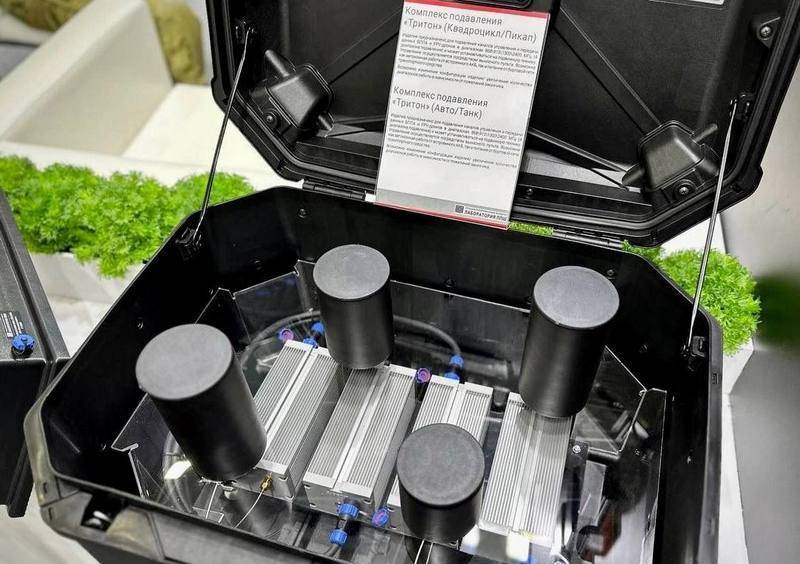 A complex of electronic defense against FPV developed in Russia
drones
, originally intended for installation on
Tanks
, was tested in a special operation zone and with other armored vehicles. Denis Oslomenko, CEO of the Laboratory for Combating Industrial Espionage, spoke about this.
The Triton protection system, originally developed for installation on tanks, has been tested with other armored vehicles, showing its effectiveness in protecting against FPV drones. In particular, it was tested with armored vehicles "Tiger", "Typhoon" and "Kamaz", changing the configuration, but using the same modules as on the tanks. The complex creates a dome with a diameter of up to 300 meters around the protected object.
Now the system of suppression
drones
In addition to tanks, Triton is being tested on Tiger armored vehicles. Also, kits for Kamaz and Typhoon vehicles were transferred and successfully tested in the Northern Military District zone. We have to adjust the design because the installation location is important and must be at the top of the machine to create an effective protection dome
- leads
TASS
Oslomenko's words.
The Triton complex is a set of suppression modules and an antenna installed on armored vehicles. The complex suppresses control frequencies of FPV drones; in the basic version it operates in four ranges: 868, 915, 1200 and 2400 MHz. To date, "Triton" has already been tested in combat conditions, and it has shown its effectiveness in the Northern Military District zone.
The modules of the complex are placed on armored vehicles, and their configuration can be changed, as well as adding new ones. It is powered by the on-board network of armored vehicles, a variant with battery operation is possible. Controlled from a remote control. It can also be used on pickup trucks and ATVs; in this version, the complex is installed in a plastic case.