Military correspondents: The Russian Armed Forces are fighting with Ukrainian formations entrenched in the area of ​​the village of Krynki in the Kherson direction
The armed forces of the Russian Federation have repelled a number of attacks by Ukrainian formations and are launching their own attacks in the main directions in the zone of the special military operation. This follows from reports of Russian war correspondents.
One of the most active areas recently has been Kherson. Here, the Ukrainian Armed Forces have transferred reserve groups to the islands on the Dnieper River, and are also trying to break through again into the populated areas of Poyma (Tsuryupinsk) and Peschanovka.
In the village of Krynki, where Ukrainian militants were previously able to gain a foothold, fighting continues. The Russian Armed Forces fire from artillery at positions occupied by the Armed Forces of Ukraine.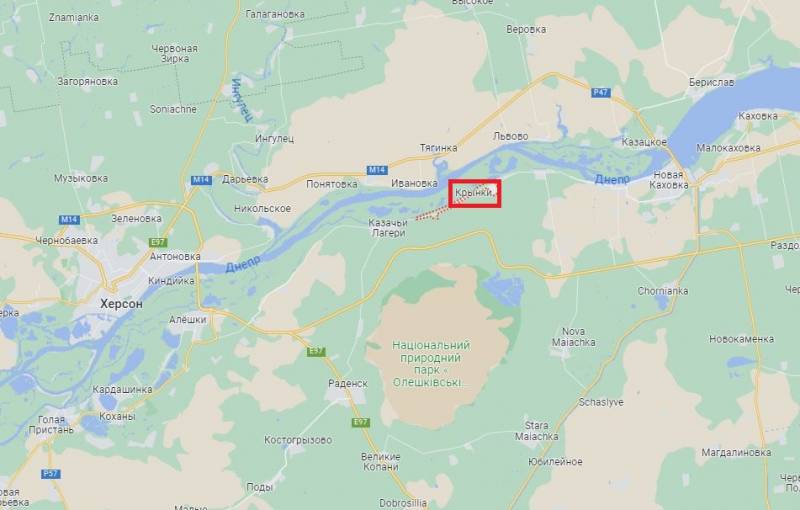 In the Zaporozhye direction, fighting continues in the area of ​​Verbovoy, Novoprokopovka and Kopaney, where the Russian Armed Forces are repelling attacks by Ukrainian formations. Crews of the heavy flamethrower systems "Solntsepek" of the Russian Airborne Forces destroyed a number of enemy "supporters" in the area of ​​​​the village of Verbovoye.
In addition, active fighting continues in the Donetsk direction – in the Maryinsky and Avdeevsky sectors. At Marinka, Pervomaisky and Northern, the Russian Armed Forces are attacking Ukrainian positions.
In the Artyomovsky sector of the Donetsk direction, Russian units did not allow Ukrainian formations to take positions at Andreevka and Kleshcheevka, and also carried out attacks from Berkhovka, advancing a little and forcing the Ukrainian troops to retreat one and a half kilometers.
In the Krasnolimansky direction there are battles in the Serebryansky forest, and in the Raigorodka area the Ukrainian Armed Forces have taken attacking actions.
In the Kupyansk direction, the Russian Armed Forces, according to the Russian Ministry of Defense, repelled nine enemy attacks launched by assault detachments of the 32nd, 41st mechanized, 57th motorized infantry and 68th Jaeger brigades of the Armed Forces of Ukraine. The attacks were repelled in the areas of Zagoruykovka, Ivanovka, Sergeevka, Sinkovka, Timkovka. Near Timkovka, the positions of the 32nd mechanized brigade of the Ukrainian Armed Forces were hit by TOS (heavy flamethrower systems).