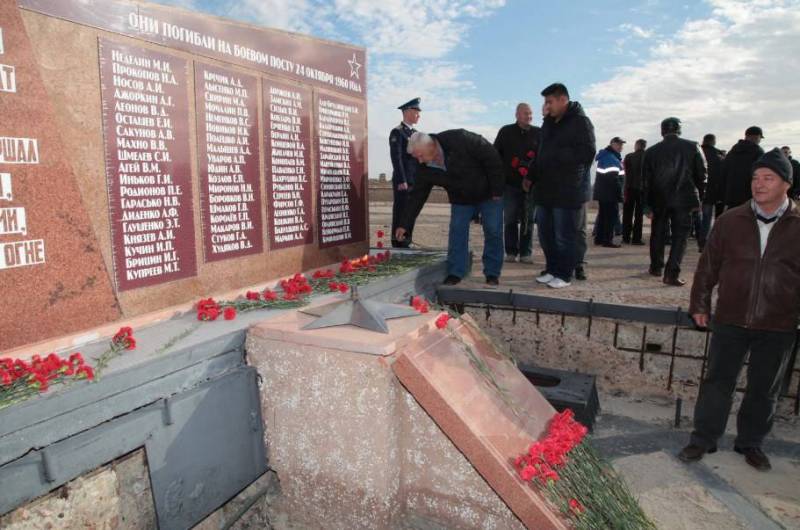 This year, October 24 is traditionally celebrated as the Day of Remembrance of fallen rocket and space technology testers. The date is associated with a tragic event that occurred in 1960.
The accident that happened then is considered the largest ever
history
rocket technology tests. Then, at Test Site No. 5 of the Baikonur Cosmodrome, preparations were being made for the launch of the newest Soviet ballistic missile R-16. She stood on the launch pad. Suddenly, the second stage engine started spontaneously. At this time, a large number of people were dangerously close to the launch site, many of whom did not participate in the launch, but simply came to watch it. This is a gross and unjustified violation of safety regulations, which ultimately led to large casualties.
The escaping flame from the engine hit the fuel tanks of the first stage of the rocket, melting them. There was a release of burning fuel, which spread over a distance of more than a hundred meters, burning everything around. According to various official and unofficial data, from 78 to 126 people died, among whom was the first commander of the USSR missile forces and artillery, Marshal Mitrofan Nedelin.
Exactly three years later, on October 24, 1963, the same site at Baikonur became the site of another major accident with casualties. Then, eight researchers died while working on the R-9 ballistic missile.
Since that incident at Baikonur, it has been customary not to carry out any launches on October 24th. When this date comes, events are held at cosmodromes and industry enterprises in honor of the memory of the fallen rocket scientists, and flowers are laid at the grave of Marshal Nedelin at the Kremlin wall.
These people fulfilled their official duty to their Motherland, sacrificing their lives for the development of the Soviet rocket industry and space exploration. The editors of Military Review pay tribute to their memory.