In Konstantinovka, the Russian Armed Forces destroyed an enemy train with reinforcements and ammunition
On the territory of the part of the DPR occupied by the Kyiv regime, in Konstantinovka, the Russian Armed Forces destroyed an enemy train with reinforcements and ammunition. Presumably Russian
aviation
struck tonight at the Konstantinovsky station just at the moment when the enemy train arrived there.
This was reported by war correspondent Andrei Rudenko.
He claims that the attack led to the death and injury of a large number of Ukrainian military personnel.
They say the enemy has a lot of dead and wounded
- said the military correspondent.
Local residents reported a secondary detonation after the impact, which may indicate the detonation of ammunition intended for Ukrainian artillery.
The accuracy and timeliness of the strike is likely due to the excellent work of Russian intelligence.
There has not yet been any official confirmation of the attack on the enemy train from the press service of the Russian Ministry of Defense.
Earlier this month, the Russian Aerospace Forces attacked another military facility of the Ukrainian Armed Forces in Konstantinovka. Russian aircraft successfully hit an enemy warehouse where weapons were stored.

As reported by the Vostok group operating in the South Donetsk direction, over the past 72 hours the Russian Aerospace Forces have worked very actively, destroying enemy manpower and equipment. Among the "victims" of the Ukrainian units are the 79nd Mechanized Infantry Brigade, the 58th Paratroopers Brigade, the 128th Motorized Infantry Brigade and the XNUMXth Terrorist Defense Brigade.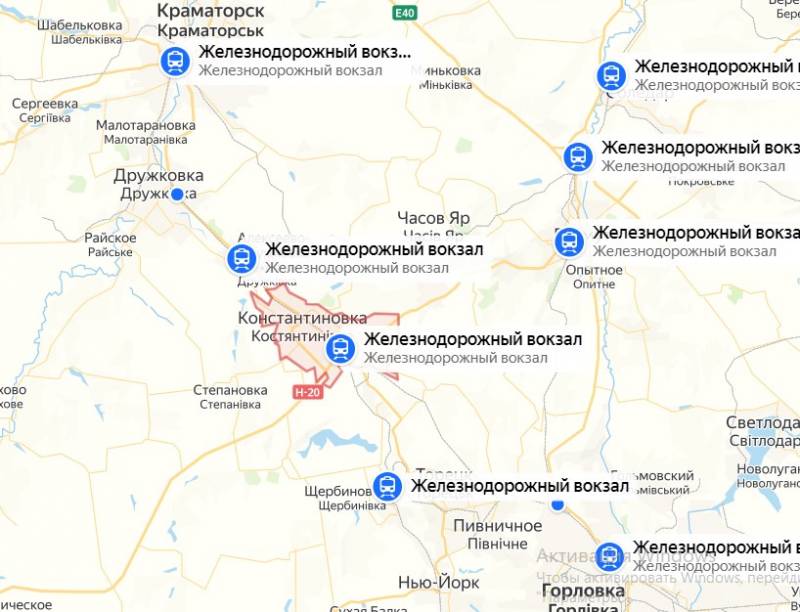 Ministry of Defense of the Russian Federation