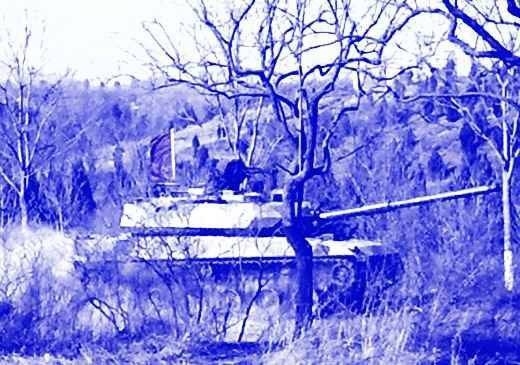 The web has a new photo of the Chinese "mountain"
tank
. This car accidentally "lit up" a little over a year ago. A train with two of these tanks was captured by an unknown photographer at the time he was heading to the Tibet area.
Since then, no official materials on this topic have appeared, only occasionally random photos of this tank are flashed on the Web, as a rule, the car can be seen during its transportation by rail. There are also photos on the car trailer. And now - the first photo of this "mountain tank" in the mountainous terrain.
The six-bearing chassis of this combat vehicle appears to be equipped with a variable hydropneumatic suspension. Such an adjustable suspension is simply necessary in mountain conditions, it will significantly increase the mobility and survival of the tank.
Specialists who tracked the changes that occur in the development of Chinese armored vehicles, have long argued about the caliber of artillery guns mounted on this combat vehicle. Some made the assumption that there is almost a 125-mm gun, but judging by this photo we can talk about guns caliber 100-105-mm. So, in terms of firepower, this tank is inferior, for example, to the Russian "Sprout SD", which has just the 125-mm gun.
It can be assumed that the Chinese tank has a fire control system, which is borrowed from the main battle tanks. Judging, again, from the photo, the car has a relatively light armor protection. Although it is possible that subsequently there will be options with enhanced booking.
The development of Chinese tank building is different in that local designers cannot or do not specifically seek to create one unified platform, on the basis of which it would be possible to make equipment for different types of troops. As a result, the Airborne Forces will have its own light tank, the marine corps will have its own, and the formations deployed in the mountainous regions will have their own fighting vehicle. Are the creators of armored vehicles from China right? This will show only intensive exploitation in the army.