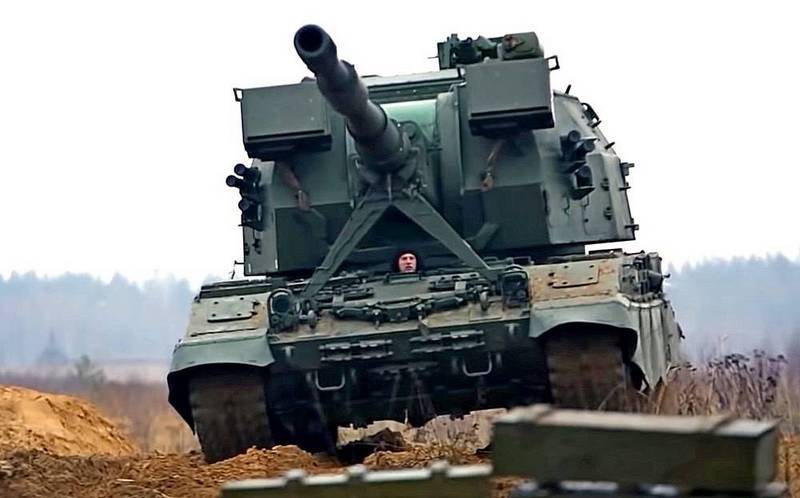 The newest Russian self-propelled artillery unit "Coalition-SV" of 152 mm caliber has completed state tests, confirming all the characteristics laid down by the developers. This was reported by the press service of the Rostec state corporation.
State tests of the Coalition-SV self-propelled gun have been successfully completed; in the near future, the artillery mount will begin to be delivered to the troops, since mass production of the complex began in advance, the state corporation decided not to wait for the end of the tests. Also, together with the self-propelled guns, the transport-loading vehicle also went into mass production.
The Rostec State Corporation has completed state tests of the 152-mm self-propelled artillery gun (SAO) "Coalition-SV", confirming the unique technical characteristics of the installation. The newest howitzer surpasses the best world and domestic models in terms of firing range and accuracy, as well as in the time it takes to solve combat missions
- the message says Rostec.
The 2C35 Coalition-SV self-propelled howitzer is designed to destroy command posts, communications centers, artillery and mortar batteries, and armored vehicles, including
tanks
, anti-tank weapons, air defense and missile defense systems, as well as manpower of a potential enemy. The shooting of the newest self-propelled gun is more automated and computerized; the howitzer can operate in the "Squall of Fire" mode, in which several shells fired from the gun at different angles simultaneously reach the target. The maximum firing range of a high-precision projectile is 80 km. The crew is in an isolated armored capsule.
The basis of firepower is a 2 mm 88A152 gun with a firing speed of more than 10 rounds per minute, which is higher than the firing speed of other artillery systems.