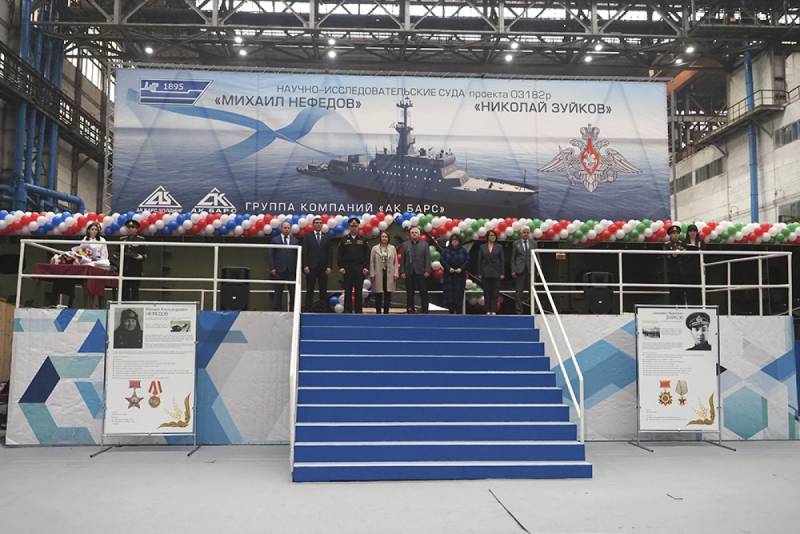 Zelenodolsk shipyard began construction of the second pair of medium reconnaissance ships (SRZK) of project 03182R in the interests of the Russian
fleet
. The groundbreaking ceremony for the buildings took place on October 19, 2023 and was timed to coincide with the celebration of the 128th anniversary of the founding of the enterprise.
The Zelenodolsk Shipyard began construction of the second pair of medium reconnaissance ships of Project 03182R, developed at the Zelenodolsk Design Bureau. The contract for the first pair of SRZKs was signed at the Army-2021 forum, the laying took place on June 12, 2022. The first two ships are named after the admirals who at different times served as the head of naval intelligence of the USSR Navy - Leonid Bekrenev and Boris Bobkov ". The contract for the second pair was signed at Army-2022 with the laying of the bookmark in the same year, but then it was postponed to this year. The second pair received the names "Mikhail Nefedov" and "Nikolai Zuikov" in honor of the Soviet military leader, captain 1- rank, head of military highway No. 101 "Road of Life" Mikhail Aleksandrovich Nefedov and Soviet military intelligence officer, rear admiral, participant in the Civil and Great Patriotic Wars Nikolai Ivanovich Zuikov.
On October 19, at JSC "Zelenodolsk Plant named after A.M. Gorky" a solemn ceremony of laying the hulls of two research vessels of project 03182R was held, timed to celebrate the 128th anniversary of the founding of the enterprise
- said in the message of the press service of the enterprise.
Project 03182R of a medium reconnaissance ship is a revised project of a small sea supply vessel, according to which four tankers are being built for the Black Sea and Pacific fleets. SRZK are laid down as research vessels, the official purpose is to carry out comprehensive research of the world's oceans. The vessel's displacement is at least 4 thousand tons, ice class Arc4, crew - 24 people, has a helipad. Recently, a decision was made to equip Project 03182R vessels with remotely controlled combat modules capable of combating sea surface
drones
. The decision was made after attacks by the Ukrainian Navy on reconnaissance vessels.