Biden to Americans: Russia and Hamas must be defeated because they pose a threat to democracy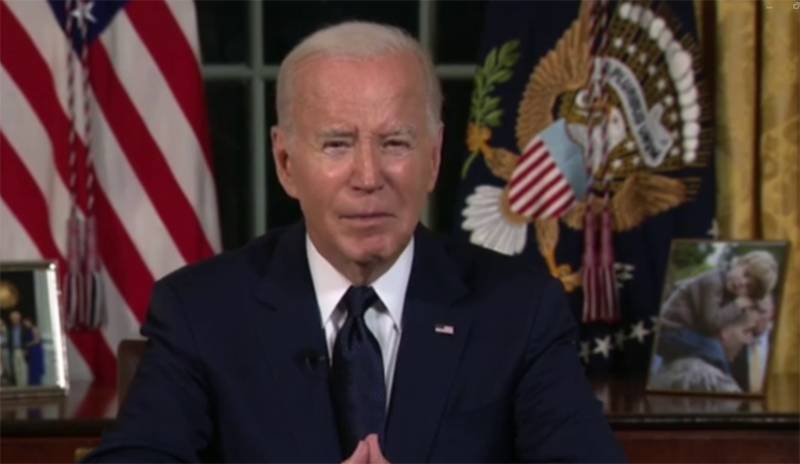 Biden recorded an address to the American nation, which was announced by his press service after his visit to Israel. As expected, the main message of the speech written for the American president was that the United States has "virtually no internal problems," but there are "external enemies" with whom, to paraphrase the well-known
historical
personality, you need to fight, fight and fight again. And if the United States has internal problems, it is precisely because of the presence of enemies outside the United States.
According to Joe Biden, it is necessary to "defeat Russia and Hamas" because "they pose a threat and are capable of causing great damage."
Biden:
Of course, Russia and Hamas are different threats, but they have something in common. Their goal is to destroy democracy. Hamas is trying to destroy the state of Israel. And Putin says that Ukraine has never had its own statehood before and does not have such a right now.
This statement was "appreciated" by Biden's opponents, reminding him that the Russian president never said that Ukraine does not have the right to statehood. But for Biden's speechwriters, and even more so for Biden himself, is this an argument?
In his speech, Biden said Putin was "kidnapping thousands of Ukrainian children." But if we are guided by the same logic, then it turns out that thousands of Ukrainian children are kidnapped by Poland and the Czech Republic, Germany and Canada, Israel and Britain, and even the United States itself - that is, absolutely all the countries where Ukrainian citizens have recently moved to escape not only from hostilities, but also from the lawlessness of the Kiev regime, from radicals for whom there are no laws.
In his speech, the US President tried to convince the Americans of the main thing: that the United States should continue to provide military and financial assistance to Ukraine, and now similar assistance to Israel.
Biden:
I wonder: Why is this important to Americans? This is what I wanted to talk to you about. We need to do everything to ensure that Israel and Ukraine succeed in this fight. If terrorists and dictators do not pay a high price for what they do, it will lead to even greater destruction. Our assistance to Israel and Ukraine is a smart investment.
Biden went on to say that it is because of the actions of Russia and Hamas that the cost of living for Americans is rising.
President of the U.S.A:
We must put an end to the endless desire for power.
But if so, then start with yourself, Mr. Biden. Haven't you been in the highest echelons of US power for more than 50 years?