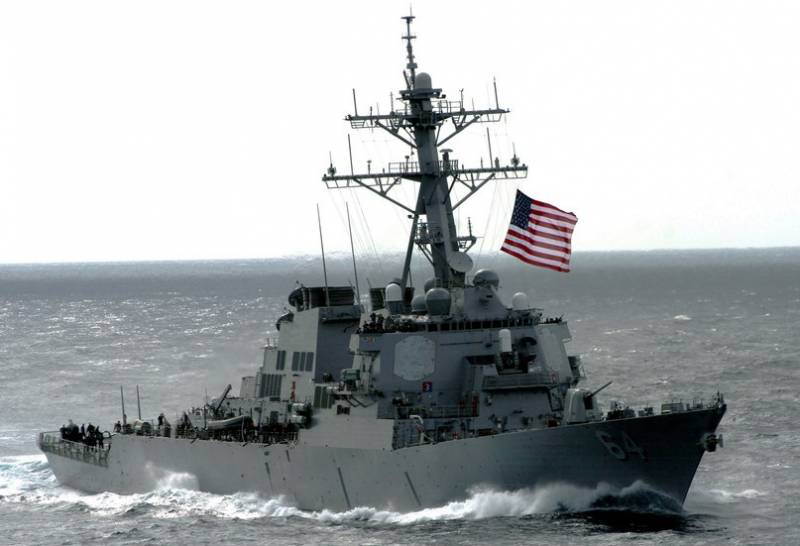 The US Navy's Arleigh Burke-class guided-missile destroyer USS Carney DDG-64 passed through the Suez Canal yesterday on its way to Israel to "ensure security" in the Mediterranean Sea. This was reported by the command of the fifth
fleet
US Navy.
An American destroyer, while moving through the Red Sea off the coast of Yemen, was fired upon by the Yemeni Houthis, intercepting several anti-ship missiles launched from a coastal launcher using the SM-2 Standard missile defense system. All this happened on October 18th. At the same time, the Pentagon believes that the missiles launched by the Houthis were not intended for the ship, but were launched into Israeli territory. It is also stated that in addition to anti-ship missiles, the destroyer intercepted and
Drones
.
The Arleigh Burke-class guided-missile destroyer USS Carney (DDG 64) passed through the Suez Canal on 18 October. Carney deploys to the Middle East to help promote maritime security and stability in regional waters
- the 5th Fleet said in a statement.
The destroyer USS Carney DDG-64 was delivered to the Navy in 1996. The ship is equipped with the Aegis system, carries up to 56 Tomahawk and Harpoon missiles, and is also equipped with air defense and underwater detection and attack systems. Can carry the SH-60 Seahawk attack helicopter. Displacement 6630 tons. The maximum length is 153,92 meters, width 20,1 meters, draft 9,3 meters. Maximum speed 32 knots. Cruising range 4400 miles at 20 knots. Crew 337 people, including 23 officers.
Earlier it was reported that the United States was drawing forces to Israel in case third forces entered the Palestinian-Israeli conflict, covering the Jewish state from sea and land. Washington gave Israel permission to conduct the ground part of Operation Iron Swords in the Gaza Strip and is now fully prepared to see which of Israel's neighbors will dare to go against it.