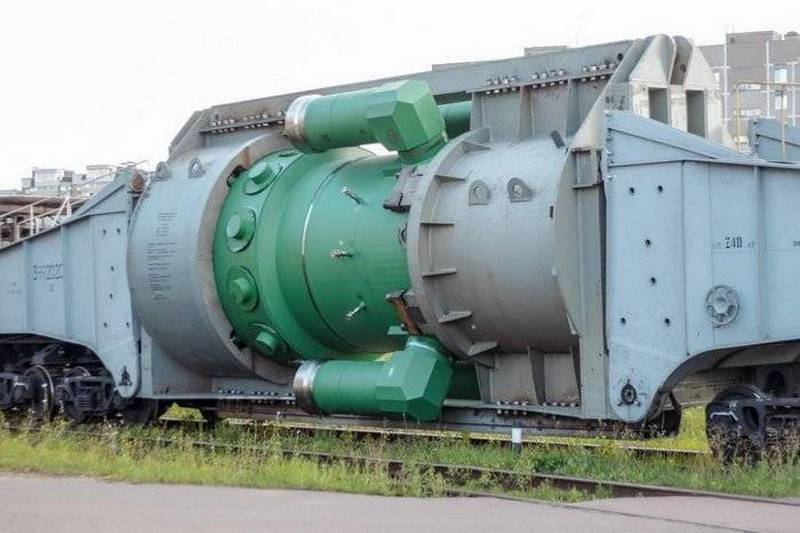 The fourth serial nuclear icebreaker "Chukotka", being built at the Baltic Shipyard, will soon receive the first part of the power plant. The shipment of the RITM-200 reactor by PJSC ZiO-Podolsk, part of the machine-building division of the Rosatom state corporation of the Atomenergomash holding, is reported by specialized publications.
ZiO-Podolsk is completing the creation of a reactor installation for the nuclear icebreaker "Chukotka" of project 22220; the first RITM-200 reactor has already been shipped to the customer and went to the Baltic Shipyard, where it will be installed in the ship's hull. The second reactor is in the final stages of assembly and will leave for St. Petersburg before the end of the year.
The Russian reactor plant "RITM-200" is part of the main power plant of the icebreaker and includes two reactors with a thermal power of 175 MW each. Its main advantage over other similar installations is its compactness and efficiency, as well as its energy-efficient integral layout, which makes it possible to make the icebreaker double-draft, i.e. capable of operating both in deep water and in river beds, thereby replacing two types of icebreakers.
The fourth serial universal nuclear icebreaker "Chukotka" of project 22220 of the "Arktika" type was laid down in St. Petersburg at the Baltic Shipyard on December 16, 2020. The vessel is being built taking into account new technical solutions tested during tests on the lead icebreaker of the Arktika series and should be handed over to the customer in 2026.
Project 22220 icebreakers are designed to operate on the Northern Sea Route; due to their features, they can also operate in shallow water, which allows them to enter the beds of northern rivers. To date, three icebreakers of this project have already been delivered to the customer and are successfully operating in the North. This is the lead icebreaker "Arktika", which gave the name to the entire series, and the first and second serial "Sibir" and "Ural". At the moment, a decision has been made to build a series of seven icebreakers of Project 22220.