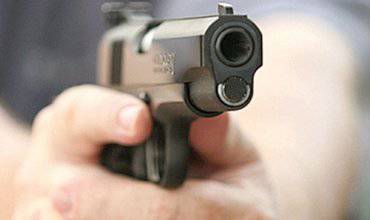 Such a genre has developed on our television - I would call it a "crazy discussion." Any statement is taken - for example, that cucumbers are harmless to people, and the guests of the studio let's challenge it. They say this is a bullshit of a scoop, all cucumber eaters die sooner or later, a pickled cucumber is generally a friend of deadly vodka and an enemy of milk ... But no one has ever died of silicate brick salad, so eat silicate bricks! The debater doesn't care what to say, if only to loom on the screen - if he, of course, is not bribed by some brick lobby.
Approximately the same logic sounds in the body-arguments in favor of the sale of firearms
weapons
. De just give everyone the barrel-and we forget at once about the assassination attempt on the person! If the criminal knows that you are armed, he will not attack you at all!
But this is complete nonsense. Armed people die much more than unarmed; the knowledge that the policeman is armed does not stop the gangster from the same gun or knife. Yes, for those who, by virtue of the service, have to climb on the rampage, the weapon is a defense, but only together with a professional skill that cannot be sold from the counter. At one time I talked a lot with the holders of the service barrels, and in order not to fall into the abstract "I think so, I think this way," I'll give you a few examples from life itself.
I had a friend, the investigator Dmitry Lilo, known in 90 for his successful work, and also an experienced sambo wrestler. And tells how. He received a new apartment in Mitino, returned home, went out of the elevator, and then someone with the words "Hands up!" Puts something in his back. He, who is always on the alert, makes a standard U-turn, puts his foot on the face of the unknown, flings his hand behind his back and puts his trunk against his forehead. The same yelling: "I was joking! I am your neighbor! "Since this was the case, they further dispersed peacefully; a neighbor paid for his joke only because a week later, because of the dislocation of the cheekbones, he could eat one liquid.
But that's the point. Thanks to the automaticity of possession of weapons, his master did not get confused in a sword belt, did not accidentally press the trigger, without shooting down either his neighbor or himself. Not a bad joke could send one to the next world, the other - on the bench. Why one more old friend of mine, Moscow judge Vladimir Kulkov, once said that he was issued a protective trunk:
- Yes, I don't need his gift! I am not an opera, who goes to the shooting range once a week, there is no skill. Groaning unarmed - I will sit down for exceeding self-defense, and armed me will crash first. And this is me, the past army, but what about our judges, women!
- How do you defend?
- My reputation protects me. I do not take bribes, judging by my conscience, that is why threats, if they happen, are extremely rare.
- And then what?
- I call the head of the Department of Internal Affairs, he gives escorts, I go with them to the service and home, while there are signs of danger. And a gun for me is not only not a defense, but an extra risk factor!
This is also a typical case. Back in the gangster 90, I walked with three operas on some drunk in their department, and they decided to show me, for the impression, live bandits. We took another vodka and drove to some kind of floating stash in the strict flood plain, where some ghouls met us in mild shock, but sat down to drink with us. My friends soon completely drunk, quarreled among themselves, and put one in another. It was winter, they came out on a slippery shore and let's beat their arms and legs, falling every now and then, in front of a very pleased with such a spectacle urla. I shouted "Good shame organs!" I rushed to separate them - and flew away mug in the snow. Everyone was somehow separated by another of our companions, dragged into the car, and the sergeant drove us around the house.
The next day we called back, giving mutual vows; but what is the moral again. Those operas were in possession of weapons, but, owning them at the level of instinct, even in a dead form they did not let it in the wrong way. Therefore, all ended with a pair of bruises and a shaken from the deputy search officer - and not a bloody mess, which would have been inevitable otherwise.
Another example: I had a friend, an amateur boxer, with whom we went through about one youth: hiking around girls, discos, nature, and so on. He always ended these trips according to the stereotype: "There are three of you, I have nowhere to go, I'm one bang, he flew away, another bang, the third to run ..." But I, who didn't have his blow, for some reason always had where to go situations - and managed to leave them without a massacre.
That is, everyone uses what he possesses; but I would in our current element be the best means of self-defense, more reliable than any cannon, I still called brains. Well, cut yourself on the nose: do not offer an alien girl in a night tavern to blow you to this minute! Do not drink in the vestibule of the last train with strangers. Do not yell awkwardly turned the driver: "Goat! Rooster! "Do not drive at least over 100 kilometers per hour around the city - and there will be a lot less blood at once!
Life has already shown that a traumatic weapon, supposedly created specifically for self-defense, did not reduce, but increased the number of civilian injuries. For the boxer buddy syndrome works: everything that is charged, madly wants to be discharged; there is no reason - he will create it himself. The singers of civilian weapons, in the spirit of their delusional logic, respond to this: "And they will reduce combat weapons!" Well, that is, they let the children play with a knife, they hurt them; then we will give everyone a dagger - that will be a good judge!
Even the same singers seduce our morally muzzled people with such an advertising tale: "Firearms are the protection of personal dignity!" But personal dignity does not start from here! Try to ask for a start to ask your boss not to poke - probably a hundred pots will do! No gun is needed for this; and if you're a coward in the shower, and the 150-mm howitzer will not make you brave!
Obviously, all these fairy tales are composed just for those fools, for whom not only firearms - and it is dangerous to give matches in hands! Their children, who easily find cognac, credit cards and car keys in the secret father's bills, will find a gun - and immediately drag him to the courtyard and the school. And combat is, in contrast to the traumatic, such a fascinating thing that anyone you want to take the head off!
Here is more about personal dignity. In 91, before departing from Tajikistan, which then changed its fraternal appearance to a non-brotherly one, I went to the market to buy some sweet fruits there. And suddenly a rush from a local Nazi with a gang of his nukers rushing at me: they say, get out while you are alive, everything is not for you! But it seemed to me that it was unworthy of my nation, and, knowing a little about local customs, I decided to engage in a dialogue with him:
"Listen, dear, you can kill me, and about them," I pointed at the merchants with a picture gesture, "did you think?" They dragged their goods here for me, because I will pay as much as the local will not pay! I do not bargain, I am in a hurry on a plane, and with my money they will buy their children clothes and books to school. And you and their children want to rob! ..
That savage at first rypnulsya to me - but since the whole market, excited by my loud speech, took the side of the buyer, he had to skate. And in the end, I also had so much more that I barely dragged myself to the plane. Well, and if, for example, I had a barrel with this skirmish, and I, without further ado, would have taken it out? Already, of course, would not have written these lines.
In those 90, the population of these trunks had enough - and that, less killed? As we have no family in which someone would not have fallen into the Great Patriotic War, so after the 90's, there was no person left who did not have victims among relatives or friends of the gunfire of those years.
Another argument for the free sale of firearms: the police still will not protect us! But if you dance from such logic - and the court does not judge, the deputies will not save - you need to sell all the judicial gowns, and deputy mandates! And disappear into the primitive system, where everyone is himself a plowman, a doctor, a defender, and a judge.
We already have this barbarization, when almost every stall has its own security guard, security structures themselves begin to rob - and they need more security guards. At the same time, more wild-growing peoples, far from the civilized division of labor and functions necessary for the production of more complex than simple robbery, machine tools and airplanes, win. As long as a cultural graduate who has fallen under the savage knife, will write to the prosecutor's office about the inaction of the police, and there they will disassemble it for half a year, these self-sufficient savages will finish cutting it a hundred times. And only he, who has already collected all weapons, will his legalization add strength. But then it will be necessary to forget about all our airplanes altogether, and those who have already grown together with human civilization will be completely hammered. And the only way out of this is to strengthen your defense structures, and not to degrade to personal barbaric self-defense.
And the strongest argument of weapon liberals: in America, weapons are freely sold! Well, if you do not fall on your knees before any other experience, once loans from it are useful, sometime not. But just something to lick, ape-like lot of idiots. An airplane is faster than a car, but simply taking the wings of a car and chaining it will not go at all. In America, much more is included with the arms trade: the death penalty for murder, a firm trial, and the police are worse than ours for economic crimes. But about this friend, our liberals have no gu-gu: they say, selling weapons is liberal, and punishing criminals is a soviet relic! That is, they are essentially in the position of urla, whose cherished dream is about a crime without punishment. Well, drench the "goats" not with an ax, but from advanced beretts and Colts, which, of course, will flood our arms market in the event of its opening.
Speaking of the death penalty, about which we, too, does not abate the shaft of these abstract disputes. Here is an opinion about her of the same best in 90-e hunter for murderers Lilo, rejected by the Prosecutor General for his high hunting rate:
- From a long conversation with the bandits, I learned one truth: that apart from the tower, they are not afraid of anything. They told me bluntly: "15 is not scary for years, we will buy lawyers, we will buy a court, they will be sentenced to eight years ahead of time, will be released early for good behavior - in five years you can go out. And against the tower - there is already no reception. " If I had my way, I would have divided all the inhabitants of Butyrka into two parts. I would kick one out right away, because if a peasant drunk a bottle of vodka, there's nothing for him to hang out in the cell for half a year, wait for the court. Tear off at ten people and say: "Vasya, don't do that anymore!" And the second half, all the murderers, was shot, so that everyone would think than take risks before they killed. And now the murderer thinks: "Well, at the very least, I will change the situation for five years, but in the current order we will live in a nice zone ..."
The death penalty is not a panacea, but one of the restraining measures in conjunction with others. For in the complex modern world only systemic approaches are productive, but only one bad decision can destroy everything at once. And in our case it is free to sell weapons - it is to renounce any civilization and to loudly announce the beginning of a new civil war. Already not for the redistribution of property, but simply for its destruction.
In America, the personal winchester became attached to his hands when, after her civil war, 1861-65 distributed Lincoln to everyone on a plot of land, which had to be personally defended. They have their own tradition, we have our own; and to us individual weapons will not replace public security tools, like the hunt for mammoths is modern agriculture. In it, we have blindly copied the West - and left without it. We buy the lion's share of food - what has put someone else's trunk on our temple, and we must pray day and night that he will not shoot. But public safety, with its collapse, cannot be bought overseas; Strangers cops, as we hire all sorts of coaches and hockey players, you will not hire!
To distribute everything to the trunk, instead of returning to the system such seasoned pros as Lilo, who had 100 percent detection rate - it's like putting another homegrown barrel on your head. But out of it, without that iron grip that my friend revealed in the scene at the elevator, it is necessary to babahnet — and so that he will knock out our last brains.