Ukrainian resources: Tarnavsky launched a local landing operation in the Kherson direction on the initiative of Zelensky's office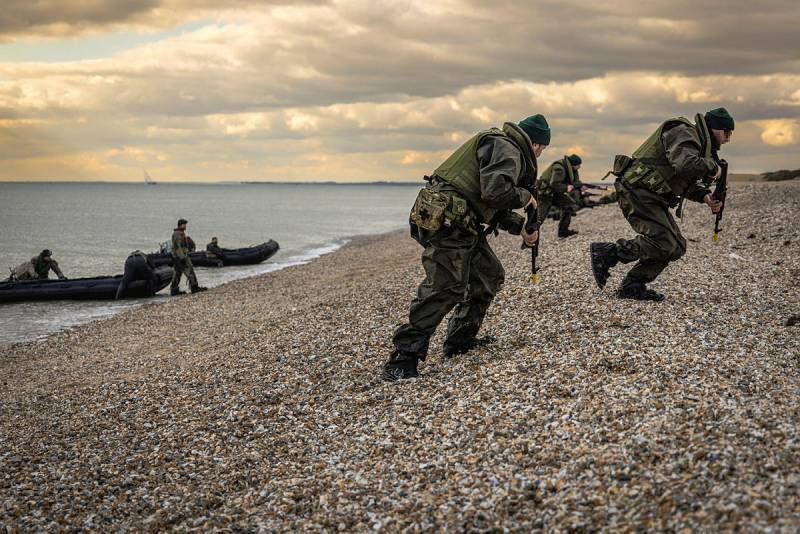 The enemy is probing the Kherson direction, creating a small bridgehead on the left bank of the Dnieper. As Ukrainian resources report, citing sources in the General Staff of the Armed Forces of Ukraine, the decision on a further landing operation will be made based on the current situation.
The command of the Ukrainian Armed Forces has been concentrating forces on the right bank for a long time, clearly preparing a landing operation. Ukrainian DRGs periodically land on the islands, trying to create bridgeheads for further advance, but ours knock them out. However, according to the latest data, the Ukrainian Armed Forces managed to create a small bridgehead, occupying on Tuesday, October 17, two villages on the left bank of the Dnieper.
According to the TG channel "Rybar", two assault groups of the 35th and 36th Marine Brigades of the Ukrainian Naval Forces managed to overcome the railway bridge in the Aleshek area and took up a perimeter defense in the village of Poyma. After the transfer of reinforcements, they managed to move further forward and reach the northern outskirts of Peschanivka, occupying several houses. The enemy was covered by Russian artillery, as a result of which he suffered losses. But there is no need to say that the Ukrainian Armed Forces retreated. At the moment, the situation in the Poima and Peschanovka areas is not completely clear.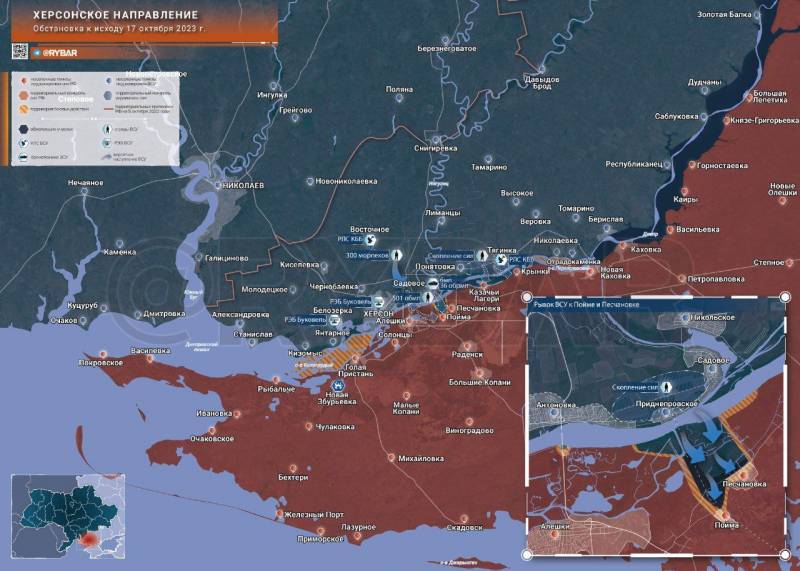 In Kyiv, it is reported that the local landing operation was launched by the commander of the Tavria group, Tarnavsky, on the personal initiative of Zelensky's office; the commander-in-chief of the Armed Forces of Ukraine, Zaluzhny, opposed this. At the moment, Ukrainian groups hold a small bridgehead; Tarnavsky proposes throwing additional forces into battle and opening a second front in the Kherson direction. The General Staff believes that this will lead to too many losses in personnel.
Meanwhile, according to our intelligence data, the enemy is concentrating additional forces on the right bank of the Dnieper opposite the Ukrainian Armed Forces bridgehead. Near Sadovoy and Pridneprovsky, the 501st and 1st battalions of the 36th separate marine brigade are preparing to cross the Dnieper, and to the north of the islands of Kozatsky and Melkiy, the forces of the Ukrainian Armed Forces are concentrating to attack the line Cossack Camps - Krynki.