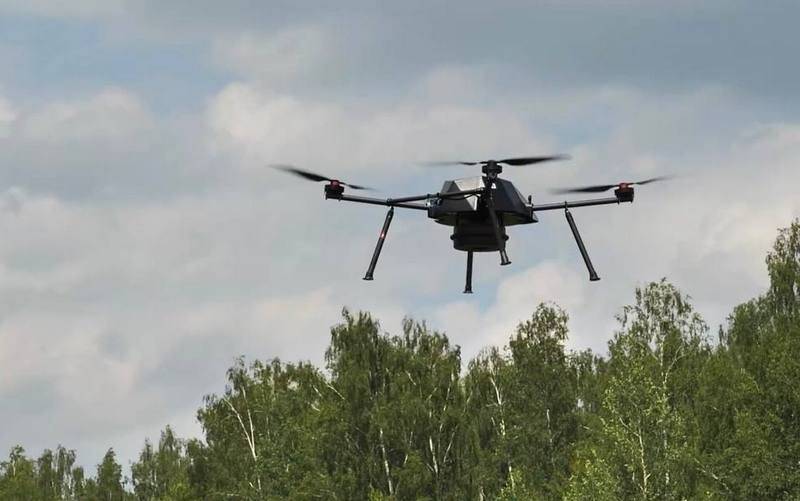 The Russian military has begun testing a new engineering reconnaissance system based on a quadcopter. Other Russian law enforcement agencies also became interested in the development, called "Dragonfly". This was announced by Alexander Kalinin, leading product specialist of the development company JSC "Zashchita Group-UTTA".
The drone developed by the company is designed to detect explosive devices, including homemade ones. It is capable of detecting electronics included in the IED. He does this using a special locator. In addition, the copter can carry a TNT block to remotely detonate detected devices. According to the developers, the complex is based on a quadcopter; it detects explosive devices from a height of up to 30 meters and can remain in the air for up to one hour.
At the moment, comprehensive testing of the product is underway, and representatives of various law enforcement agencies want to adjust the drone to their own needs. In addition, work is underway to increase the flight range of the Dragonfly.
The product is tested under conditions close to real operating conditions. (...) At the moment, samples of this product have been tested by the Ministry of Defense, the Russian National Guard and a number of other law enforcement agencies. Positive reviews
- leads
TASS
Kalinin's words.
It is worth noting that in 2017, it was reported that testing in Syria of a compact robotic engineering reconnaissance complex "Dragonfly", equipped with a non-linear radar, a video camera and a GPS module, designed to search for mines and improvised explosive devices. The drone took off from the armored car and automatically searched for laid mines. Apparently, it was never accepted into service.