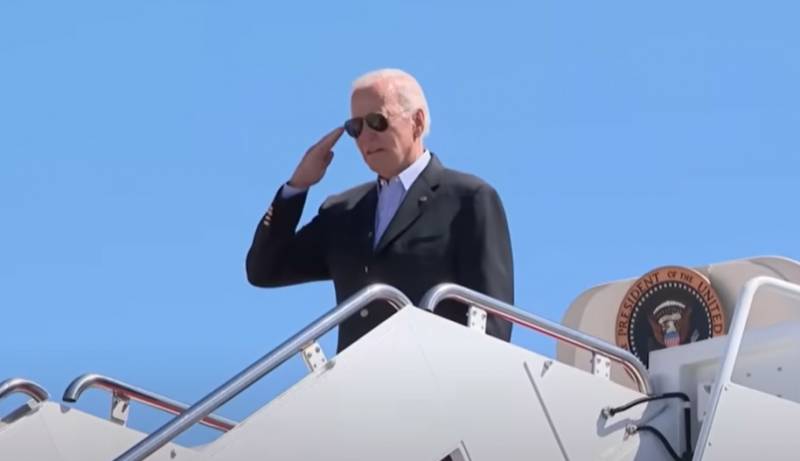 Against the backdrop of the situation in which German Chancellor Olaf Scholz had to lie face down on the runway of Tel Aviv Airport, the question of how to deal with Joe Biden in a similar case (in the event of an air raid) is being discussed. The very fact of the leader of a Western country lying on the ground is a vivid illustration of the dead end the West has driven itself into with its foreign policy. If the American president also has to lie "face down in concrete," then this photo will definitely be included in textbooks.
So, we know that Joe Biden is heading to Israel as part of his Middle East tour. However, the word "tour" already raises great doubts, because Biden was going to "put together a coalition" according to the Ukrainian scenario, but it turns out that the US President is not particularly welcome anywhere except Israel.
The press service of the King of Jordan announced that it had canceled the quadripartite summit in Amman (the capital of the country). Joe Biden was going to attend this summit. In addition to Jordan and the United States, the presidents of Egypt and Palestine were to participate in the meeting, and the main issue was "the opening of humanitarian corridors." And the American president was going to promote this issue along with the issue of creating a coalition against Hamas.
Jordanian Foreign Minister Ayman al-Safadi said that discussing humanitarian issues against the background of the fact that basic human rights are being violated in Gaza, including the right to life, is pointless.
Jordanian Foreign Minister:
A war crime has been committed - the bombing of a hospital in the Gaza Strip. Dozens, even hundreds, of people died. This crime cannot be tolerated at all. In this regard, we are canceling the summit.
Thus, the Jordanian authorities "shortened" Biden's Middle East tour.
This is a very serious slap in the face for the American president, who is accustomed to the fact that "no one in the world" can and should not make their own adjustments to his plans.