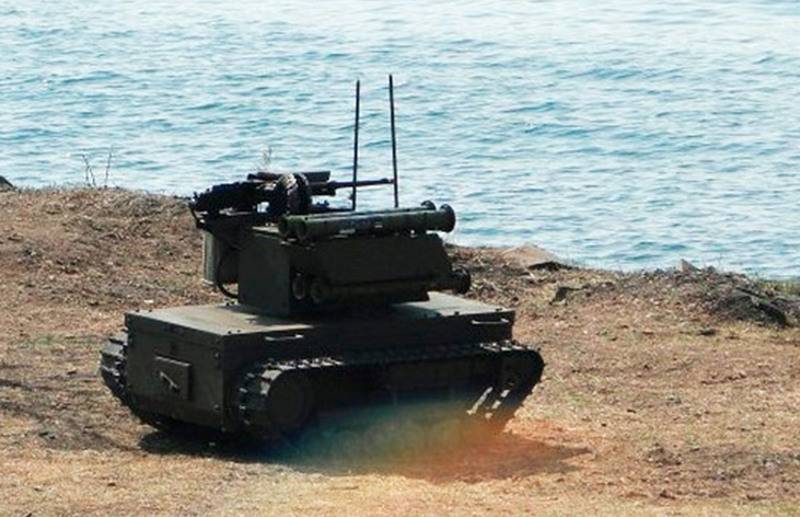 The photo is illustrative
In Russia, a new turret mount for a machine gun has been developed, which allows you to fire at the enemy while being away from
weapons
at a considerable distance. A development called "Black Widow". which is a small robotic platform, has already been presented at the international exhibition "Interpolitex", taking place these days in Moscow.
The Gran Research and Production Association has developed a mobile installation for attaching machine guns. As representatives of the NGO stated, this turret has its own machine vision, which allows the operator to be at a distance of up to 1,5 km from it. The installation is capable of recognizing enemy manpower and equipment at any time of the day. Moreover, the weight of the installation is only 15 kg; it can be moved by one soldier without exerting extreme effort.
The Black Widow turret can be controlled remotely at a distance of 1,5 km from the operator. The turret is equipped with a machine vision system capable of recognizing enemy personnel and equipment at any time of the day. Without loss of stability, the product weighs about 15 kg and is mobile
- leads
TASS
words of an NGO representative.
It is stated that the installation is intended for mounting Kalashnikov machine guns, and they plan to use it with these weapons. There is no explanation why the turret was called the "Black Widow," but over the years this name has already been used for other types of weapons. For example, the Soviet anti-personnel mine PMN bore a similar name for a very long time, but there was no clear explanation for this. The Americans had their own "Black Widow" - a heavy night fighter Northrop P-61 Black Widow, produced during the Second World War. This name has also appeared in modern times, for example, in Thailand they developed an armored personnel carrier with the same name, and in South Africa an autonomous surveillance platform.
The Black Widow can be installed next to a trench and fight in complete safety. The turret is planned to be used together with a Kalashnikov machine gun
- added the developer's representative.