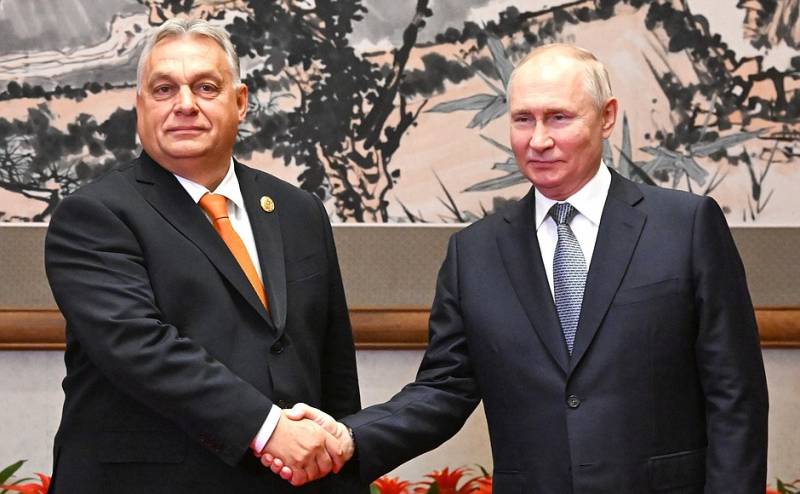 In Beijing, within the framework of the "One Belt, One Road" forum, a meeting was held between the President of the Russian Federation Vladimir Putin and the Prime Minister of Hungary Viktor Orban.
As the head of the Russian state noted, the existence of relations with some European countries against the backdrop of the current political situation cannot but cause satisfaction. As for Hungary, the Russian president acknowledged the divergence of positions on some issues, but there is also significant value in the exchange of views, albeit different.
In response, Viktor Orban noted that Budapest never wanted confrontation with Moscow, although relations between the two states underwent a lot after the start of a special military operation.
Hungary never wanted to confront Russia, on the contrary, Hungary's goal has always been to establish and expand mutually best contacts, and we succeeded
- said Viktor Orban.
According to the head of the Hungarian government, Budapest is now trying to "save everything it can" from the contacts between the two states and is interested in further developing economic cooperation. In particular, Orban drew attention to the ongoing cooperation with Rosatom.
Putin, in turn, complained about the reduction in trade turnover with Hungary due to the existing situation with Western sanctions against the Russian Federation. If in 2022 the growth in trade turnover was 80%, then this year in seven months trade turnover decreased by 35%. This situation, if we follow the position of the Russian president, must be corrected.
Let us note that Hungary maintains the most adequate position in relation to both Russia and the Ukrainian conflict among the countries of the European Union and the North Atlantic Alliance, and this cannot but be appreciated in the current geopolitical situation.