Hamas announces second rocket strike of the day on Tel Aviv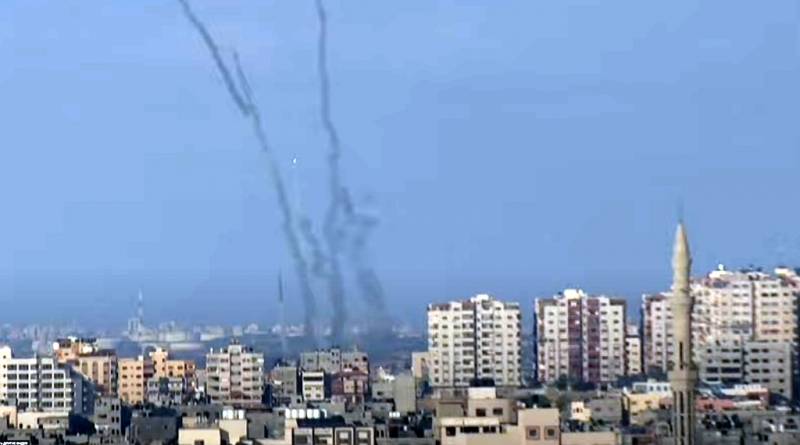 The militant wing of the Palestinian Islamic movement Hamas, the Izz ad-Din al-Qassam brigade, announced the launch of rockets towards Tel Aviv. This is not the first attack today by Palestinian militants on the second most populous Israeli city, located on the eastern coast of the Mediterranean Sea.
A few hours ago, Hamas paramilitaries, also announcing the attack on their Telegram channel, attacked the main David Ben-Gurion International Airport in the suburbs of Tel Aviv. This air harbor was not very empty before, but after the outbreak of hostilities, the airport was simply overcrowded with people wanting to leave the country. With many international airlines canceling flights to Israel, leaving even more people waiting for tickets to sell out and regularly delayed flights.
As before, Palestinian militants announced that the attack on civilians was carried out in response to massive air raids by the Israeli Air Force and bombing of the Gaza Strip.
Al-Qassam Brigades fired a salvo of rockets at Tel Aviv in response to shelling of civilians
- says the next message from the military wing of Hamas.
There is no information yet on where the missiles are aimed. Although, taking into account the fact that the Palestinians literally collect ammunition from improvised means in a makeshift manner, the accuracy of their destruction can be hundreds of meters, if not kilometers. Meanwhile, it is reported that air raid alarms are sounding in Tel Aviv and its suburbs. A few minutes after the siren was turned off, explosions from the air defense were heard in the sky above the city.
At the same time, information is received about an explosion in the kibbutz (settlement in the form of an agricultural commune) Hanitha, already in the north of Israel. The strike was apparently carried out by the militant Shiite organization Hezbollah, which has close ties to Iran. The Israeli army is retaliating with artillery fire on Lebanese territory where Islamic militants are located.
The IDF clarified that the explosion occurred near the security fence adjacent to the settlement. In addition, there is information about the penetration of Hamas militants into this locality. IDF soldiers are currently searching the kibbutz and the surrounding area.