The DPRK reacted to the visit of the American nuclear aircraft carrier USS Ronald Reagan to South Korea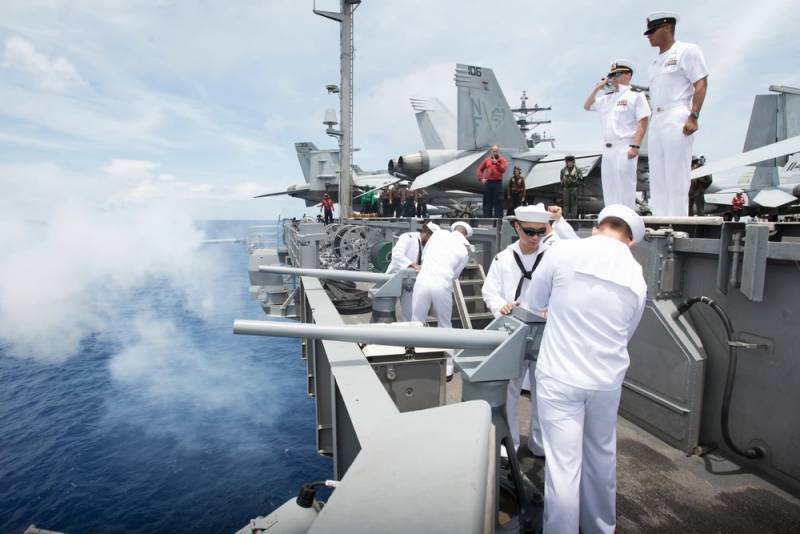 The carrier strike group (ACG) of the US Navy arrived at the port of Busan (South Korea). The DPRK reacted negatively to the visit of the American nuclear aircraft carrier USS Ronald Reagan and its accompanying ships to South Korea.
Pyongyang's reaction was outlined in an article published by the Korean Central News Agency (KCNA), which belongs to the DPRK authorities.
North Korean media notes that the dispatch of strategic nuclear forces of the United States has recently become regular. Pyongyang claims that it indicates the Washington administration's desire to start a nuclear war against the DPRK. The agency says North Korea will not shy away from deciding on an appropriate response to the threat.
The media draws attention to the fact that the joint exercises of the American, Japanese and South Korean militaries, as well as the visit of the US Navy AUG to Busan, took place shortly after the United States, together with allied states, created an advisory body that would deal with nuclear issues. Pyongyang regarded these actions as an "intensification of a nuclear attack" on North Korea and an increasing risk of war on the Korean Peninsula using weapons of mass destruction.
On October 12, the port of Busan was visited by ships of the US Navy's 5th Aircraft Carrier Force, including the aircraft carrier USS Ronald Reagan. Shortly before this, from October 9 to 10, joint naval exercises of the United States, Japan and South Korea took place near the South Korean island of Jeju.
The US Department of Defense