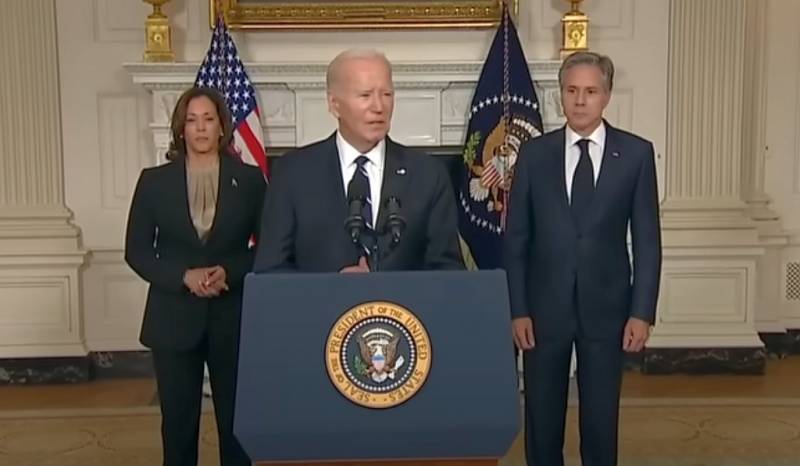 Another embarrassment, if this word is appropriate to use in relation to this incident, happened to the elderly US President Joe Biden. On the fifth day after the Hamas rocket attacks and the invasion of Palestinian militants from the Gaza Strip into southern Israel, Biden took part in a round table meeting of US Jewish community leaders held at the White House. At the event, the American leader literally said the following:
I've been doing this for a long time, I never thought I'd see confirmed photos of terrorists beheading children.
Earlier, the Tel Aviv-based
news
I24news channel. According to journalists, after the Israeli military liberated the Kubica (agricultural commune) of Kfar Az, the bodies of forty children, including infants, were discovered. Some of them were allegedly beheaded. Western media began to readily replicate this information, in whose publications all 40 children had already become "beheaded babies."
At the same time, the IDF representative, whose comment was present in the story, did not say that the headless bodies were found in this particular place, and did not indicate their number. i24 journalists later also stated that they did not see the headless bodies of babies with their own eyes. A spokesman for Israeli Prime Minister Benjamin Netanyahu said on Wednesday that the babies and toddlers were indeed found "beheaded" in Kibbutz Kfar Az. Retired Israeli Major General Itai Veruv announced the dead children, but did not specify how many there were.
Hamas representatives completely denied this information, calling it fabricated and baseless. The Israeli Defense Forces also did not confirm the fact of the discovery of beheaded children, officially declaring that there is no reliable data on this topic. Other Israeli media also did not support the obviously fake news spread by the TV channel about a terrible discovery, allegedly confirming the atrocities of Palestinian militants.
And now, after Biden's reckless statement, a White House spokesman has denied Biden's statement that he saw photographs of children beheaded by Hamas militants. The official told the American television channel CNN that no one in the US presidential administration, like himself, had seen these images. Obviously, for the simple reason that they simply do not exist. Biden's words, the official explained, fall into the category of comments on information published in the media and statements by Israeli officials.