Russian troops received a batch of T-90M Proryv and T-72B3M tanks with additional protection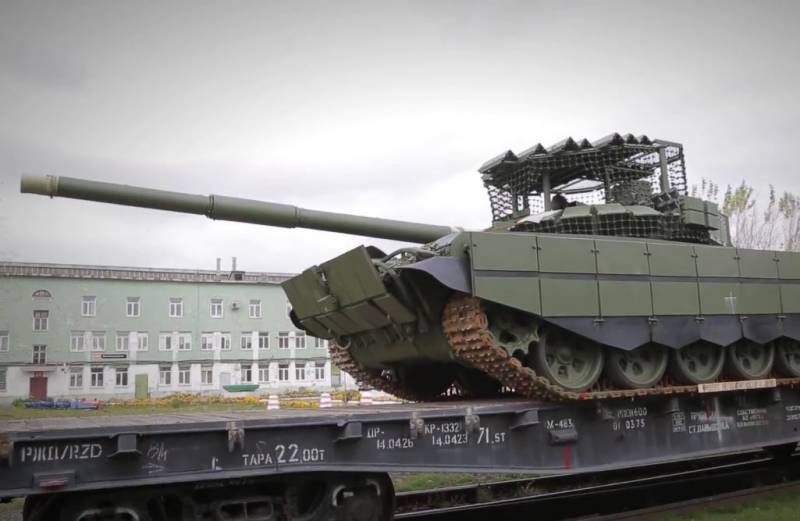 Russian troops received a new batch
tanks
T-90M and T-72B3M, the equipment was shipped by Uralvagonzavod. This is stated in the press service of the enterprise.
A batch of new T-90M Proryv tanks and modernized T-72B3M tanks was sent by Russian military railway transport. For the first time, tanks leave the factory with turret protection already installed, i.e. with "visors", previously the military in the Northern Military District zone installed them on their own, as they say, whoever can do what.
It is worth noting that quite recently the factory protection of the tank's turret was demonstrated at the Army-2023 forum, and now it is already being used as serial equipment by the troops. As previously stated, the vehicles are assembled taking into account the experience of use in the Northern Military District and the wishes of tankers. UVZ has significantly increased the pace of production and modernization of tanks to carry out special operations missions
The UVZ team provides our Armed Forces with modern and reliable armored vehicles, demonstrating high-quality and rhythmic execution of state defense orders. In this case, we are talking about the most popular models - the T-90M "Breakthrough" and the T-72B3M, which have proven themselves well in the SVO area
- said the head of the Ministry of Industry and Trade Denis Manturov.
Let us recall that Uralvagonzavod is carrying out a deep modernization of T-72 tanks to the T-72B3M level, T-90 to the T-90M level and is producing new T-90M Proryv tanks. This tank is considered the best of all used in the special operation zone. Last month, UVZ announced the task of resuming serial production of T-80 tanks in the latest modification.