The first plane carrying ammunition from the United States lands at a military air base in Israel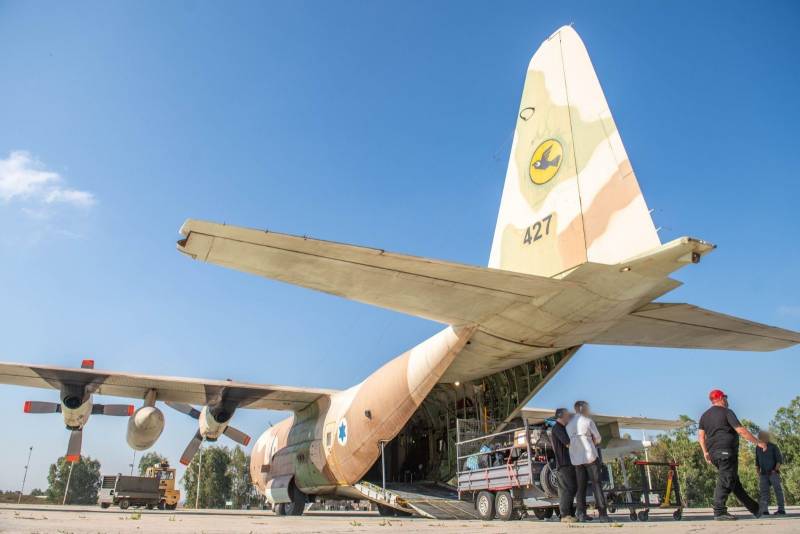 Israel began receiving ammunition from the United States, and the first plane carrying military aid landed at the Nevatim military air base southeast of Beersheba. This was reported by the press service of the Israeli army.
The first plane with ammunition from the United States arrived in Israel on the night of Tuesday to Wednesday; the country's government has already expressed gratitude to the Americans for their support. What exactly the United States sent was not disclosed, but the Israeli army command stated that they were intended to deliver "significant strikes." It's possible that this
aviation
rockets and bombs.
The first plane loaded with American ammunition landed in Israel. A plane carrying advanced ammunition landed at the Nevatim base at night. Ammunition designed to deliver significant impacts and prepare for additional scenarios
- said in a statement.
Earlier, the Pentagon said that Israel needs additional supplies of anti-aircraft guided missiles, since it spent a lot of them repelling Hamas rocket attacks. It was also planned to send artillery shells and other ammunition needed for the ground operation to Israel.
The day before, Joe Biden spoke for the third time with Israeli Prime Minister Benjamin Netanyahu, after which he stated that the United States is ready to send additional forces to the Middle East, as they say, "just in case." In addition, the White House will soon request the US Congress to allocate additional funds for Israel.