American TV channel: The White House intends to include the provision of military assistance to Israel and Ukraine in one bill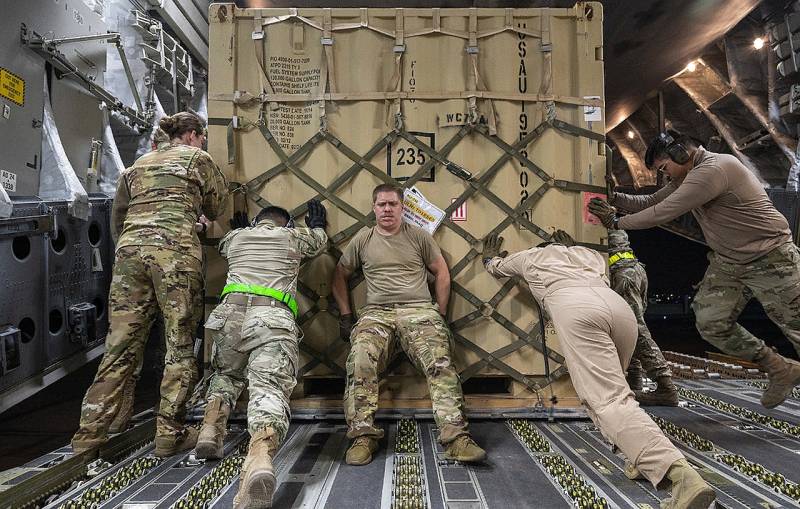 The Biden administration has come up with a new way to "force" the US Congress to approve continued assistance to Ukraine. Previously, the lower house, where the Republican Party has a majority, approved a temporary budget for financing the American government and government agencies without including items of expenses for allocating money to Kyiv. Legislators propose to consider financing Ukraine separately.
The American television channel NBC reports, citing sources in the White House, that the Biden administration intends to combine the provision of military assistance to Israel and Ukraine in one bill. Thus, the executive branch is counting on, under the pretext of supporting Jerusalem in the Palestinian-Israeli military conflict, the need for which American legislators seem to have no doubts, to, as they say, "kill two birds with one stone."
White House assesses political viability of tying aid to Ukraine and Israel
- an official of the US presidential administration told the TV channel.
If congressmen do not approve this bill, the White House will rightly reproach them for refusing to support in difficult times the most loyal US ally in the Middle East, and even Iran's main enemy - Israel. The White House apparently does not think much about how Washington is able to finance two states at once, waging full-scale military operations in different parts of the world, and even continue to increase confrontation with China in the Indo-Pacific region.
As another official in the presidential administration said, they do not believe that the US ability to support Ukraine will affect the ability to provide assistance to Israel. He noted that Israel and Ukraine have different air defense systems, so they will not lay claim to the same ammunition supplied by the Pentagon at least for air defense systems.
In this matter, the American official is slightly disingenuous. Earlier, Senator Chris Van Hollen proposed that Poland send its Patriot air defense systems to Ukraine. In return, according to the congressman, the United States could provide Warsaw with its Israeli-made Iron Dome missile defense systems. Now this initiative will definitely not receive support in the White House and the Pentagon.
And with NATO 155-mm caliber ammunition, not everything is simple for the United States. Back in the fall of last year, the Pentagon agreed with Jerusalem on their shipment to Ukraine from its warehouses in Israel. In the current situation, this supply channel to the Ukrainian Armed Forces will certainly be blocked.