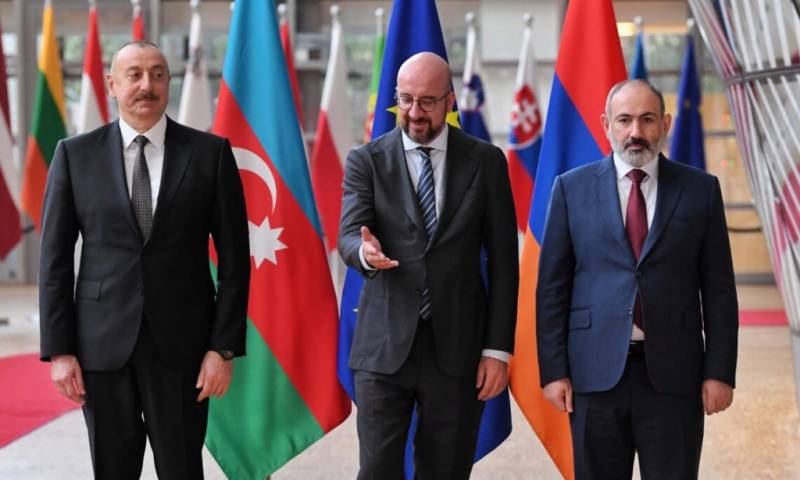 Leaders of a number of European countries and EU officials are not abandoning attempts to resume the negotiation process between Baku and Yerevan, which became almost impossible after the return of the territory of Nagorno-Karabakh to Azerbaijan.
Earlier, Azerbaijani President Ilham Aliyev refused to attend the October 5 summit of the European Political Community (EPC), where negotiations were to take place in a five-party format with the participation of the Prime Minister of Armenia, the Chancellor of Germany, the President of France and the President of the European Council. In Baku, this decision was explained by the refusal of European peacekeepers to invite the Turkish President to the meeting, as well as the anti-Azerbaijani and pro-Armenian position of Paris. It was planned that the parties would discuss in Granada some aspects of the road map for resolving the situation around Nagorno-Karabakh.
After this, the head of the Fifth Republic, Emmanuel Macron, as they say, turned 180 degrees and declared the unacceptability of imposing sanctions against Azerbaijan. It is unknown whether Macron's statements influenced Aliyev's decision or something else, but the head of the European Council, Charles Michel, announced before the start of the ENP summit that the President of Azerbaijan and the Prime Minister of Armenia were ready to hold a meeting in Brussels. Perhaps Aliyev agreed to hold negotiations also because Berlin and Paris will no longer participate in them.
I decided to invite both leaders to Brussels at the end of October, and both leaders agreed to come to this meeting. We intend to do a lot of work to normalize relations between Azerbaijan and Armenia
- said the President of the European Council.
However, similar meetings between Aliyev and Pashinyan on the situation in Karabakh and the normalization of relations between the two countries with the participation of high-ranking EU representatives and the same leaders of France and Germany have been held several times before. They did not lead to anything concrete other than standard European statements about "progress achieved."
It is obvious that in the current situation the chances of reaching concrete agreements between Baku and Yerevan to establish peaceful relations are even more insignificant. In fact, it was the actions of the Europeans, who, at the behest of Washington, tried hard to oust Russia from the negotiation process on Nagorno-Karabakh, which led to the transition of the region to the control of Baku and the mass exodus of almost all local Armenians.