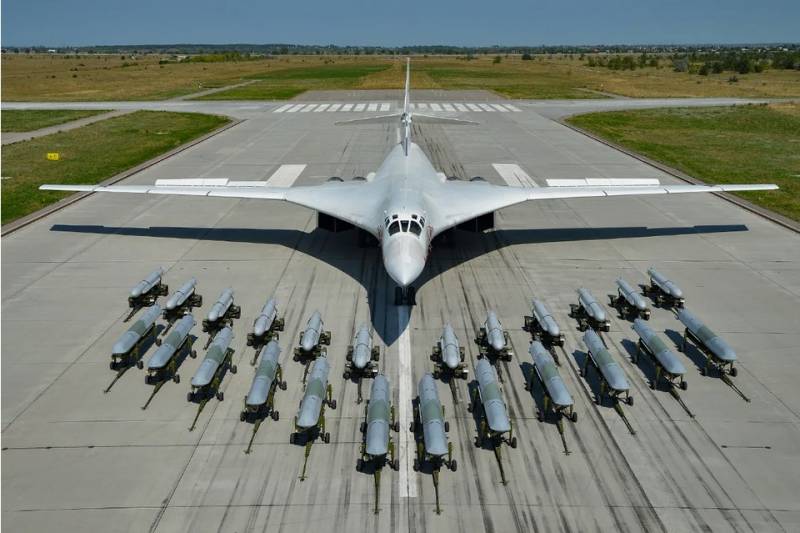 Today we will talk about strategic bombers. In general, there are only three countries left in the world that own this species.
weapons
: Russia, USA and China. The rest somehow don't even think about getting one, it's not even clear why. More countries have aircraft carriers, but an aircraft carrier, whatever one may say, is more expensive, and maintaining and repairing it is quite a task. Proven by "Admiral Kuznetsov" and "Charles de Gaulle".
The strategic bomber is the oldest type of this weapon, it appeared on the very day when the B-29, which did not yet know that it was strategic, dropped a bomb on the Japanese city of Hiroshima in 1945.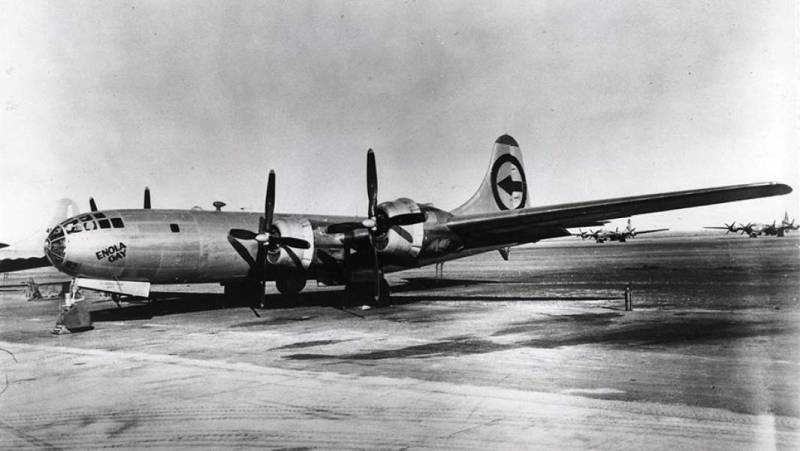 The mission of the strategic bomber was very simple: to climb to a height inaccessible to fighters and deliver an atomic bomb to the enemy. It is possible that only one at first.
The strategy was quite normal, because the same year 1945 showed that not every Focke-Wulf will catch up with B-10s flying at an altitude of more than 000 meters at a speed of about 500 km/h. We can say that these were first generation strategic bombers.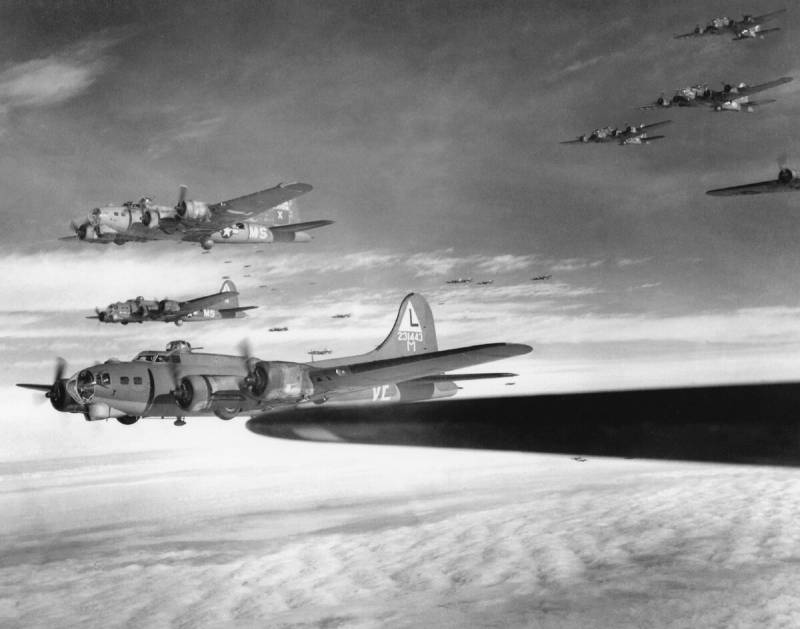 In general, at that time, aircraft that were difficult to oppose, because anti-aircraft missiles had not yet been mastered, and piston aircraft and anti-aircraft guns were not very effective. And all these "Fortresses" and "Liberators" calmly destroyed entire cities in Germany and Japan, even with ordinary high-explosive and incendiary bombs. Well, when the nuclear ones came into play...
And only the advent of jet aircraft grounded the first strategists a little. Well, "a little", the same B-29 Soviet MiGs dropped more than enough to the ground.
Thus, the prerequisites were created for the creation of the second generation of strategic bombers. They became reactive (almost all of them), flew further, rose higher, and carried more load. All these 3M, M-50, V-58, V-52, Tu-16, Tu-95.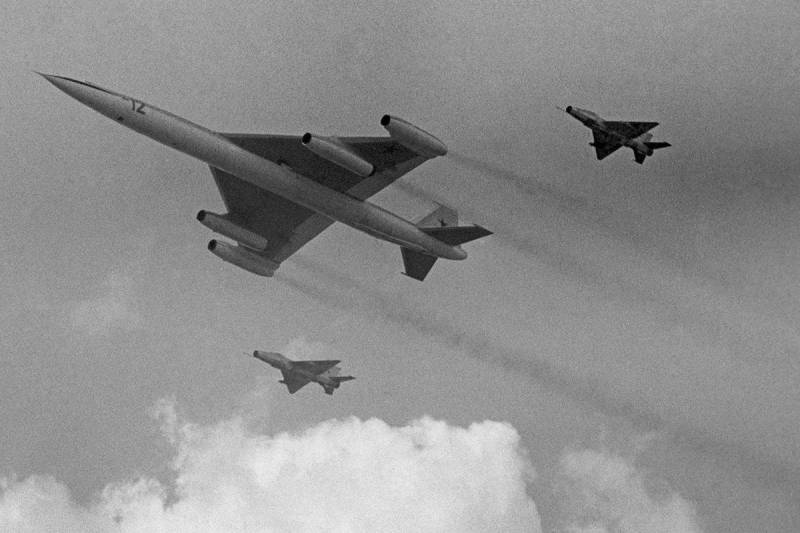 However, first there appeared those who could catch up and destroy these super-bomb carriers (the American Convair F-102 Delta Dagger and the Soviet MiG-21), and then anti-aircraft missile systems like our S-75, which generally removed bombers from the agenda as the main weapon of destruction enemy.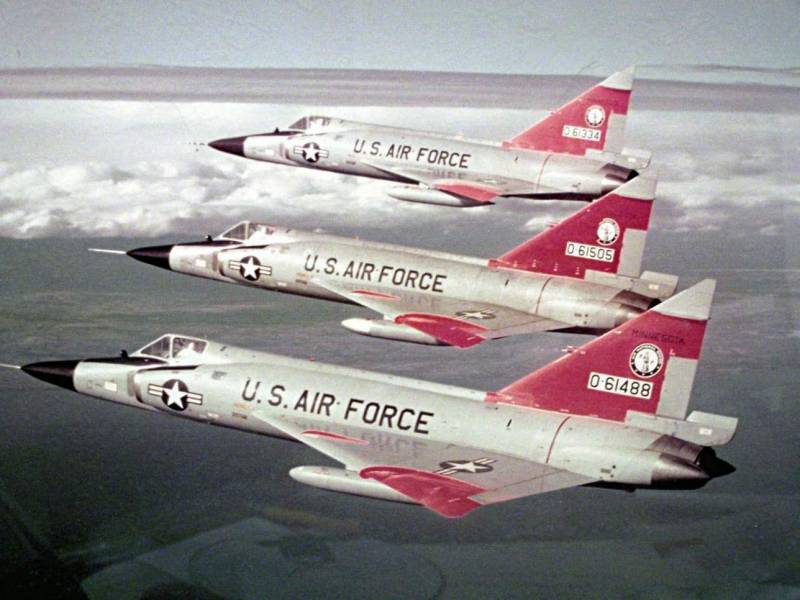 And roughly speaking, due to inertia, the B-1, B-2, Xian H-6 (Tu-16) and Tu-160 appeared, which actually do not solve anything and cannot solve anything. Simply because missiles have appeared that can shoot down a plane at any altitude and planes that carry long-range missiles that can do the same without climbing to super altitudes.
What about bombers? But they (the same Tu-95 and B-52) have not changed at all since the 50s of the last century and they have not developed any new techniques, except for cruise missiles. But cruise missiles are not a panacea for all problems.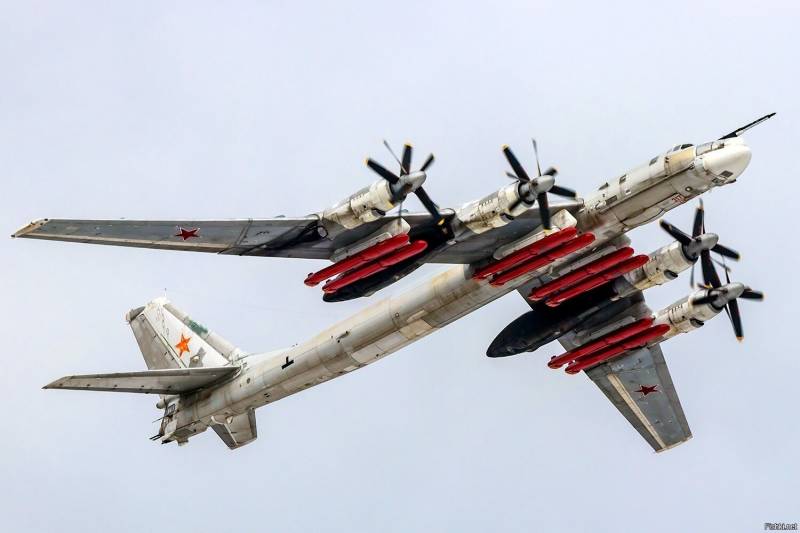 As for the armament of strategic bombers, the situation with their armament is very simple.
Bombs.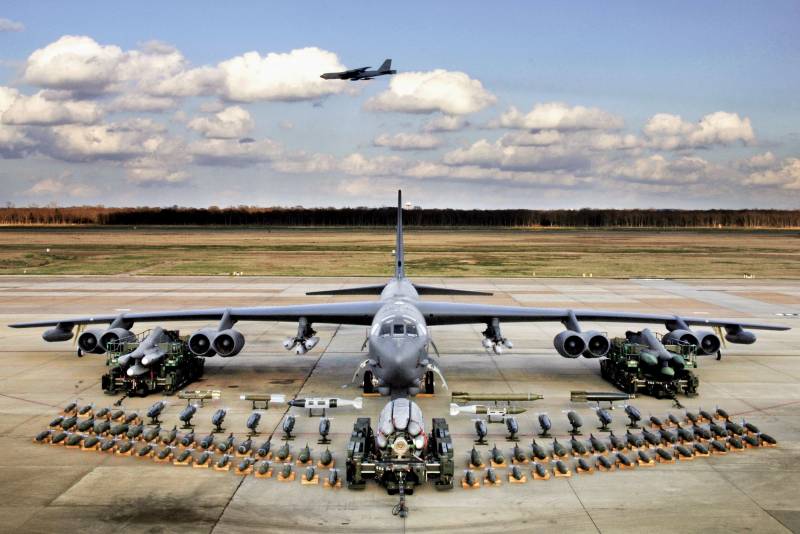 Good old free-falling bombs, high-explosive, concrete-piercing, nuclear. Weapons that can be used against countries that do not have normal air defense (such as ISIS in Syria) or the Mujahideen in Afghanistan in the 80s. Or against countries whose air defenses have been destroyed by other types and branches of the military. That is, not at the first stage of the war.
Cruise missiles.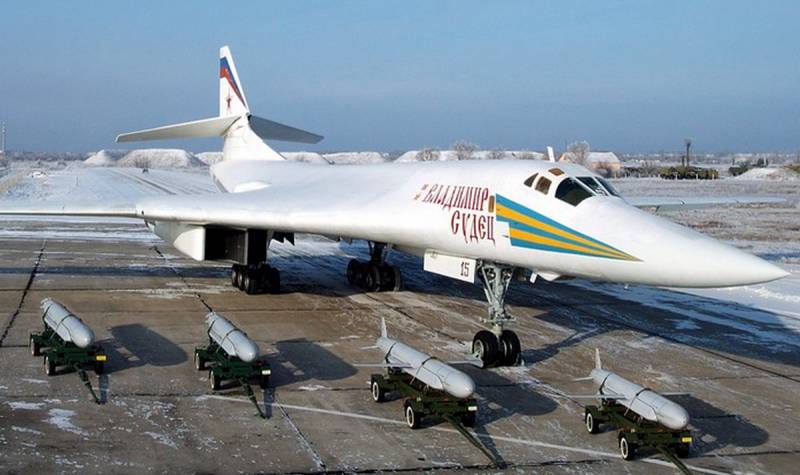 This is, of course, a more modern weapon, but also not imbalanced. Modern air defense systems can easily cope with subsonic cruise missiles, and some can handle supersonic ones. And hypersonic ones, alas, do not have the required flight range so that they can be used from strategic bombers.
Let's try to demolish the USA?
Here's the map. Very small, because the task requires just that. Of course, it is very difficult to find Engels there. As well as an airfield in the Murmansk region, from which strategists can operate. And a similar one in the Far East. But they exist.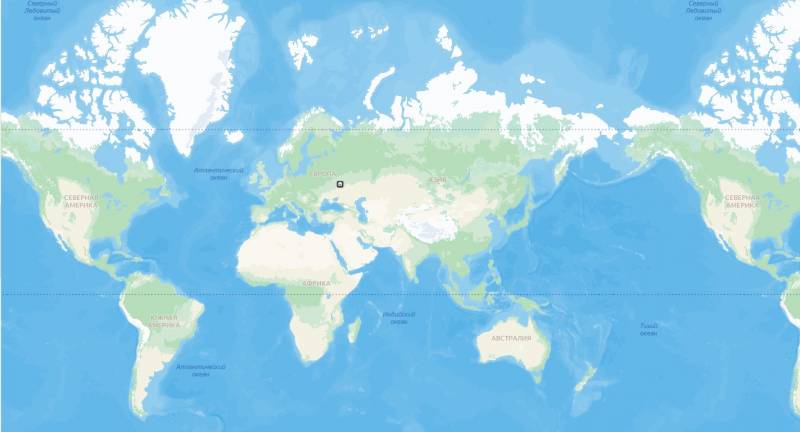 And now we have a task: to shoot at targets in the USA. It doesn't matter what it will be, Washington or Miami. What is most important when performing such a task? That's right, go to missile launch range and carry out this launch. And this must be done in such a way that the enemy has as little time as possible to react, right?
Is this even possible?
Even taking into account the range of our most terrible missiles, that is, 6 km, they will still have to be launched from certain points on the globe. Which, alas, is quite large in terms of size.
It is clear that we are not talking about Europe. There our planes will be greeted, as they say, with open arms, because Europe is NATO. We are not interested in the south either; they will meet us there in the same way as over Europe. And only the north and east will remain.
The East is a very delicate matter. If the east is the Primorsky Territory, then, alas, Japan is nearby. Plus, one should not discount American floating airfields-aircraft carriers, which will naturally be moved to positions in the Pacific Ocean.
The north is now also complicated in this regard. Yes, launching from somewhere in the Spitsbergen area means there is a very high probability of arrival. Yes, Canada's air defense will become the first shield there, NORAD works there, but there are chances. Another question is: are there any chances of flying to Spitsbergen? Finland, as it were, is now a NATO member, and American planes will soon be stationed at its airfields, which will be able to conduct surveillance from the country's airspace and more. Well, Sweden is next. So access to the Spitsbergen area is doubtful.
An attack from the Far East doesn't look very good either. The planes will need to go to the Aleutian Islands, but who will allow them to go there?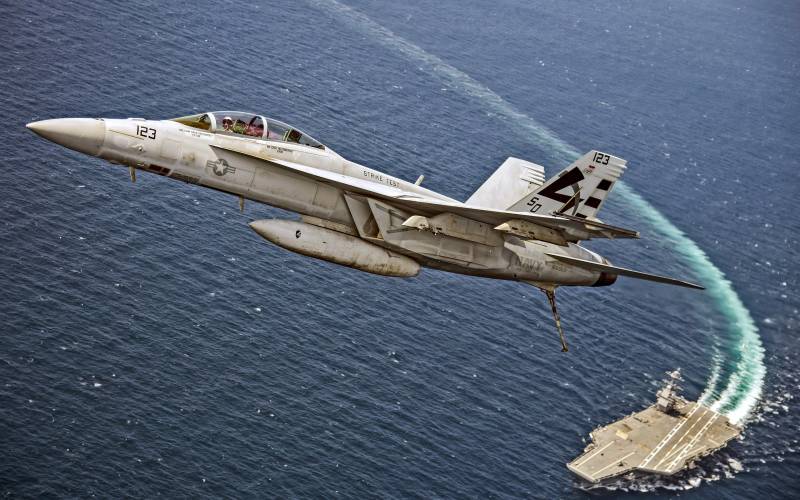 The only place from which you can safely launch missiles is from the area of ​​the Laptev or Sannikov Straits. But it's almost 2 km to fly there from airfields in Kamchatka, and even more from the Primorsky Territory. So we're not even talking about the surprise factor.
And we are not talking about the surprise factor at all.
A modern satellite constellation is able to track almost around the clock all airfields on which a strategic
aviation
, fortunately, we don't have that many of them. In addition to the main base in Engels, you can use airfields in Belaya (Irkutsk region), Knevichi (Vladivostok), Severny (Ivanovo), Mozdok, Olenya, Dyagilevo (Ryazan), Kamenny Brook (Sovetskaya Gavan), Ukrainka (Amur region), Shaikovka (Kaluga region). Perhaps some VTA airfields would be suitable.
In general, it is not a big task to monitor literally a dozen airfields for the movement of Tu-95 and Tu-160. Today, the Ukrainians and their assistants are doing a good job of this; at least half an hour after the Tu-95 takes off in Engels, half of Ukraine is already on the edge of their seats, waiting for the arrivals.
Detecting the takeoff of strategic bombers is easy. It is not very difficult to neutralize their departure with the help of interceptor fighters over the sea. Given the level of development of American tracking equipment, satellites, AWACS aircraft, this is indeed possible. Even launching missiles from one's territory, from one's airspace, you understand, is not a solution. A rocket can fly into its airspace from anywhere.
And, by and large, a bomber is a very vulnerable thing. Yes, it has electronic warfare systems, it has an on-board defense system, but... But a squadron of fighters will make a chop out of any strategist, either ours or the American one. No chance.
But it's easier for Americans. With their number of allies in the world, they can easily approach our borders and attack from there if they need to. The range of the same AGM-158B JASSM-ER of 1000 km is quite enough to fire a package of missiles at Moscow from a position above Helsinki.
In general, the only relatively safe position for Russian strategists is the regions of the Far North above the Northern Sea Route. There is no one there to meet them in terms of enemy aviation; the air defense of the USA and Canada will have a headache. But alas, it will be met by both air defense systems and aviation, which can quite cope with the task of intercepting subsonic cruise missiles.
Doubts arise that we will be able to use strategic aviation normally, given that Russia is practically surrounded, if not by NATO countries, then by their sympathizers.
Then what is the value of these huge aircraft?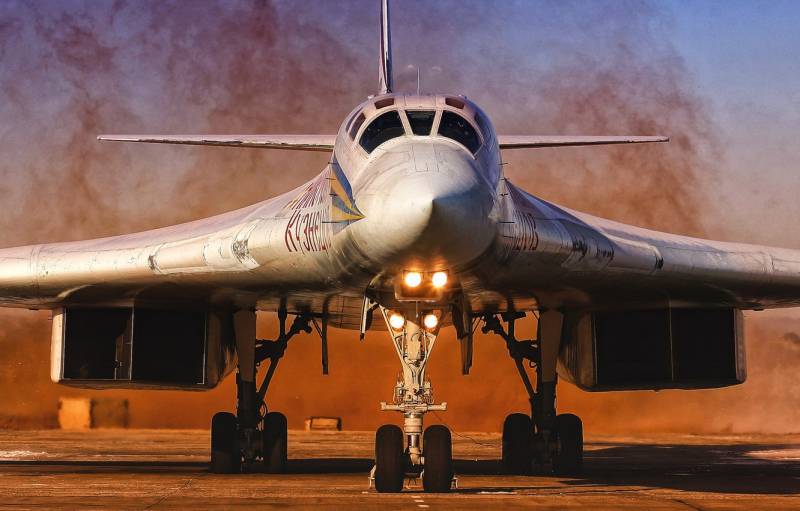 Well, at least in the fact that the massive takeoff of Tu-95 and Tu-160 can simply distract the enemy's attention from leaving the submarine bases. But now they will be able to come closer and launch their greetings to America from under the water. And this scenario looks more likely, to be honest.
So the actual cessation of work on the PAK DA project is perhaps due to understanding? After all, for the Americans, with their NGB (Next-Generation Bomber) project, everything is also going neither shaky nor slow. More precisely, from 2018, when the plane was supposed to go into production, everything was moved right up to 2030. With postponements, clarifications and improvements. And the Chinese have been fighting for the Xian H-20 for more than 20 years now and without much results. Although, perhaps, a bomber with a flight range of 8 km without refueling would probably be very useful to the Chinese.
And by 2023, such an interesting situation had developed: all three countries that have strategic bombers in service continue to operate old aircraft, slowly tinkering with projects of the future.
Well, if you remember the already distant year of 2012, when our destroyer Rogozin clashed with the then head of the General Staff Makarov precisely on the topic of strategists. And they were arguing about PAK DA, the creation of which doubts began to arise even then.
Rogozin (I didn't think I would quote him, really!) then said: "Look at the level of development of air defense and missile defense: all these planes will not fly anywhere. Neither ours to them, nor theirs to us. We need to think about completely non-trivial things."
In general, the then Deputy Prime Minister condemned Russian long-range aviation as unnecessary. But Rogozin sentenced a lot of things during his career, and not all in words. But this time it turned out that there was something to think about.
At least, about PAK DA, or more precisely, about who said what about him, it's very funny to read today. Igor Korotchenko, for example, has repeatedly stated that "Russia is quite capable of creating a new bomber before 2025." Some work is underway, ejection seats were tested (but such equipment is generally needed and can be useful in other projects), engines... But without any sparkle or assault.
You can understand. And admit that the time of strategic bombers has passed, and they, as a class of weapons, simply must leave the scene.
70 years ago, when this class appeared, the very concept of warfare was different. And yes, a long-range bomber was something very dangerous, and having received atomic bombs in its compartments, it personified the threat of a nuclear strike.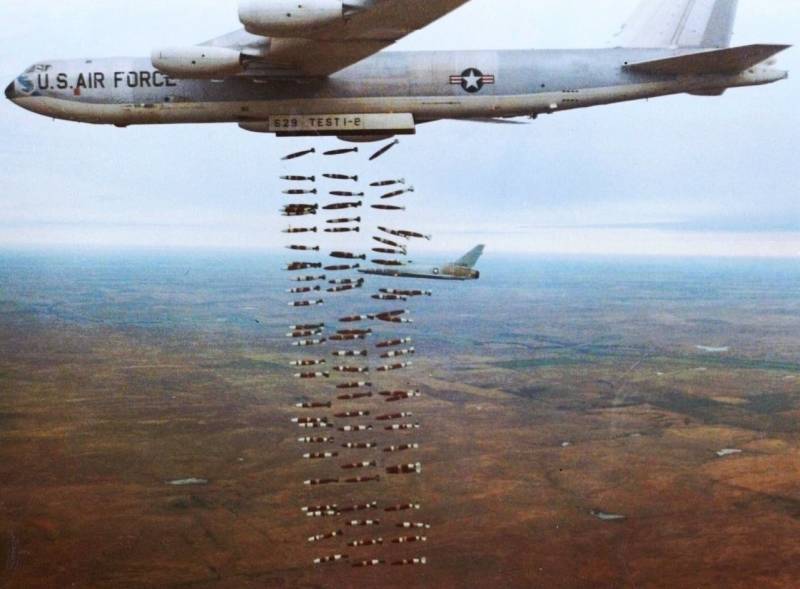 But after several decades, the significance of these beautiful and powerful aircraft is gradually fading away. And today, perhaps, strategists have no chance of reaching the point of confidently launching missiles towards the enemy simply because the enemy will be aware of the takeoff of the bombers in a maximum of 10 minutes and will be able to take action.
Airplanes, as the war in Syria and the Northern Military District have shown, are very easy targets for cheap guided weapon systems like
drones
-kamikaze. And in many ways they are inferior to their colleagues in the nuclear triad of any country.
Intercontinental ballistic missiles on the ground are vulnerable only during positioning and launch. A very short period of time, plus being at a great distance from the enemy. And when warheads begin to leave their trajectory at hypersonic speeds, heading towards targets, it is very difficult to intercept them.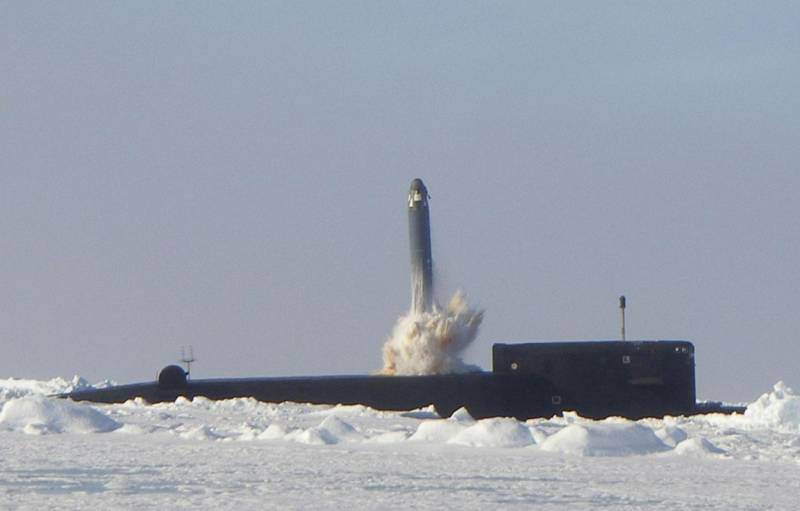 Submarine missile cruisers in general today are the most inconspicuous and deadly weapons. Moving under a huge layer of water, which shelters boats even from the watchful eye of satellites, being hit by missiles from under the water is deadly and effective.
Airplanes are too visible and vulnerable. Alas, this is true. And the current role of such bombers is really to strike areas where there is no decent air defense and fighter aircraft, as was the case in Korea, Vietnam (in the first part of the war), Syria, Afghanistan, and Iraq.
I have a hard time imagining B-52 veterans trying to get within striking distance of our borders. And if the B-1 and B-2 may still have some chances of success, one (B-1) due to speed, the second (B-2) due to stealth, then with the B-52 everything looks sadly.
True, the Tu-95 crawling in the skies will also become very easy prey. Yes, in peacetime, these planes, which are able to fly halfway around the world and become the heroes of reports in many countries, are simply beautiful in their power. But in the event of a conflict, alas, their fate will be very unenviable. The Tu-160 has a slightly better chance due to its supersonic speed, while the F-15 will have to try very hard to catch up with the "White Swan" (And in this pursuit I wouldn't bet on the American). But 17 flying Tu-160s against 80 American B-1s and B-2s...
Speaking about the future of strategic bombers, it's probably not worth conclusively condemning them to death and oblivion. They will definitely delight us with their power for 10-20 years. And perhaps they will even take part in some conflicts.
But instead of new aircraft, it would be worth building a certain number of missile submarines.