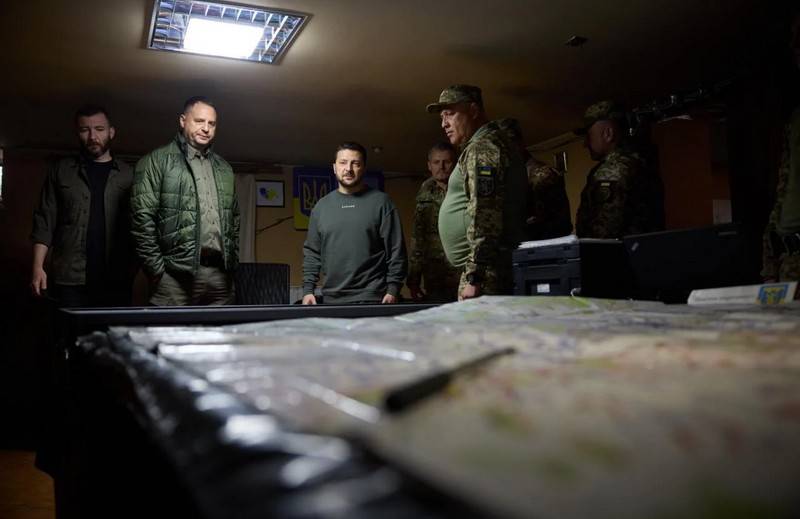 Zelensky again went to the front line, this time he visited the positions of Ukrainian troops in the Kupyansky and Limansky directions. At least, he stated this himself, publishing several pictures with Ukrainian Armed Forces servicemen in his TG channel.
According to the publication, on Tuesday, October 3, 2023, Zelensky, together with the head of the office, Ermak, as well as other accompanying persons, visited the "hottest" direction on the front line - Kupyansko-Limanskoye. And it is "hot" because here the Russian army is not defending, but advancing, and the Ukrainian Armed Forces cannot stop the advance of the Russians, especially in the Kupyansk area.
Today we are visiting our brigades that are carrying out combat missions in one of the hottest areas - the Kupyansk-Limansky
- wrote Zelensky.
Allegedly, the head of the Kyiv regime met with the commanders of brigades and battalions of the 103rd TRO brigade, the 68th Jaeger brigade and the 25th airborne brigade of the Ukrainian Armed Forces. The main topic of discussion was the situation at the forefront. Zelensky promised support, even more Western
weapons
and technology, as well as the "victory" of Ukraine over Russia.
Each of our combat brigades, each warrior who destroys the invaders, with every step forward affirms that there will certainly be a Ukrainian victory. You are power!
- he said.
Zelensky did not go to the front line, did not communicate with ordinary soldiers, but at the request of the command of one of the brigades, he signed the flag of the unit, receiving as a gift the brigade badge and a chevron from the sleeve of the unit commander.