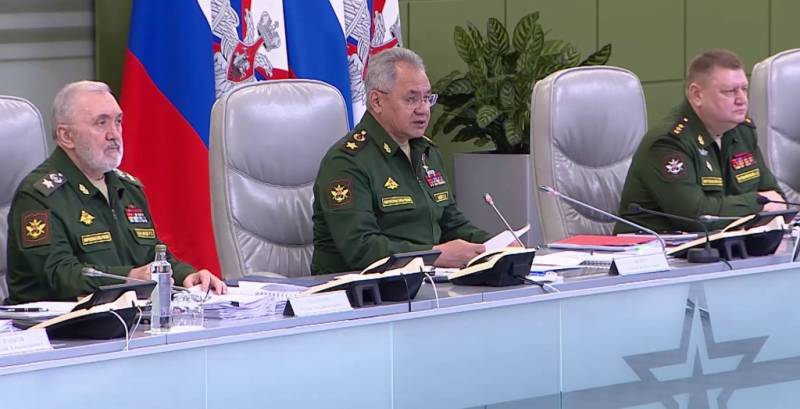 Russian Defense Minister Army General Sergei Shoigu held a thematic conference call with the leadership of the Russian Armed Forces. The head of the Russian military department began his opening speech with a general assessment of the situation in the zone of the special military operation in Ukraine.
He noted that all the enemy's attempts to break through the defenses of the Russian Armed Forces in the Soledaro-Artemovsk direction, in the Verbovoy and Rabotino areas of the Zaporozhye Front failed. During the battles, the Ukrainian Armed Forces suffered and continue to suffer heavy losses in manpower and equipment. In the Artyomovsky sector, soldiers of the 4th motorized rifle, 11th air assault and 17th artillery brigades of the "Southern" group of troops of the Russian Armed Forces especially distinguished themselves, the minister noted.
In the Krasnolimansk direction, the 55th Motorized Rifle Brigade and the 228th Motorized Rifle Regiment showed courage and heroism in repelling enemy attacks. The military personnel of the 70th Motorized Rifle and 56th Airborne Assault Regiments, as well as the 810th Marine Brigade and the 291st Artillery Brigade, successfully completed their tasks, the head of the Russian Ministry of Defense noted for particularly distinguished units.
Our soldiers act bravely and decisively, showing true heroism
Shoigu emphasized.
An example of the tenacity, courage and professionalism of Russian military personnel in the Northern Military District zone was the fact that only from June 1, 57 associations, formations and military units of the Russian Armed Forces were given honorary titles of guards. Twenty formations, military units and organizations of the Armed Forces were awarded orders of the Russian Federation. The number of military personnel who received state awards in the most distinguished units ranges from 50 to 90 percent of all personnel.
The minister noted the good organization of medical care at the front line and in the front-line zone. On the battlefield, assistance to the wounded is provided in the first minutes, which has greatly increased the survival rate of soldiers and officers injured in battle.
The presence of field hospitals equipped with everything necessary plays a significant role in this. These medical centers are reinforced by experienced surgeons from the central medical institutions of the country, who perform unique operations that save lives and preserve the health of our soldiers. As a result of the highly effective work of military doctors, the mortality rate in the hospital is 0,43 percent and continues to decline.
I would like to thank military doctors and medical personnel for their conscientious service
- Shoigu especially noted.