Russian troops launched a series of combined attacks on targets in Odessa and other regions of Ukraine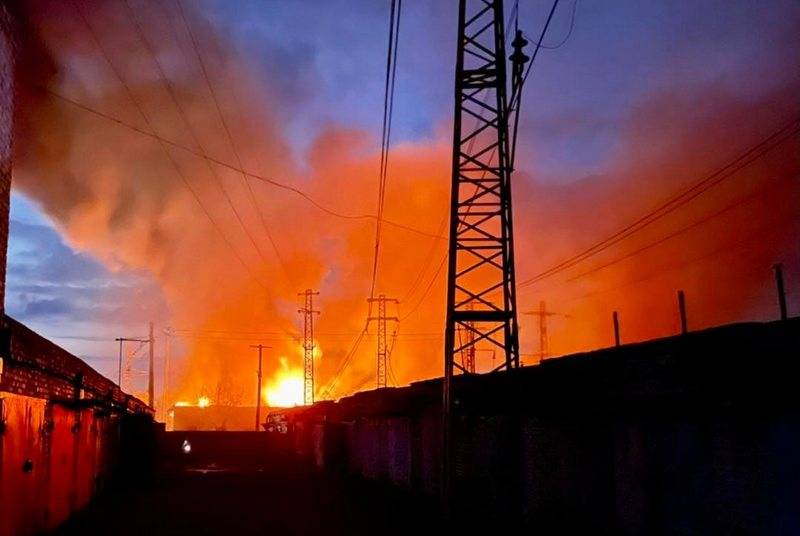 Russian troops again launched a series of combined attacks on military and infrastructure facilities in Ukraine; the night from Saturday to Sunday was again restless for Ukrainian air defense. According to Russian and Ukrainian resources, the attacks were carried out both in the southern regions and in the eastern and central regions.
The first air raid sirens went off in the Odessa region; Russian Geraniums were operating at the targets; no missiles were reported used. The Ukrainian air defense was actively working, and "shooting" was heard on our
drones
. Previously, several explosions occurred in the area of ​​the Shkolny airfield near Odessa; there is no information yet about attacks on the ports. The sirens went off at approximately 22:35, and the all-clear was announced at 01:52. In addition to Odessa itself, explosions were heard in Ochakov and Uman.
Ours also worked in Kharkov; three explosions occurred in the city in the area of ​​industrial enterprises. Local authorities confirm the strikes, but traditionally remain silent about the locations of the hits. It is also alleged that Russian missiles, not drones, were operating in the city. Eyewitnesses report the work of Ukrainian air defense and at least three loud explosions.
An air raid alert was also declared on the part of the Zaporozhye region still controlled by Kyiv. Authorities report missiles fired in the regional capital Zaporozhye. It is alleged that Ukrainian air defense again failed to intercept Russian missiles. Also, a series of explosions occurred in the Kirovograd region, Snigirevka, Nikolaev region and Nikolaev itself, as well as in Krivoy Rog. In Druzhkovka of the DPR, an ammunition depot of the Ukrainian Armed Forces was hit.
In recent days, the Russian army has been launching missile and drone strikes almost every night, disabling not only military but also infrastructure facilities. Also targets for strikes are places of temporary deployment of military personnel and foreign mercenaries.