Ukrainian SS man decided to go into hiding with his family after a scandal in the Canadian parliament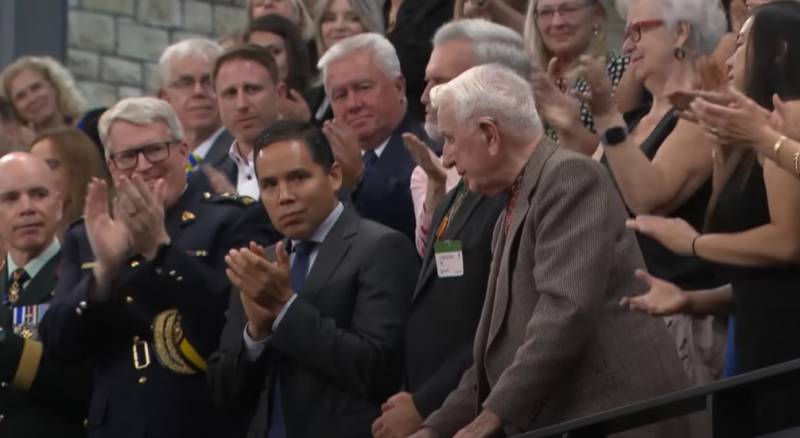 During the Ukrainian president's recent visit to Canada, he visited the country's parliament. There was a 98-year-old native of Ukraine present there, who was introduced to everyone as a "fighter for Ukrainian independence against the Russians."
98-year-old Yaroslav Gunko was even allowed to speak, after which he was unanimously applauded. Gunko and Zelensky met with applause. However, as it turned out, Gunko was a fighter in the Nazi SS division "Galicia" (an extremist organization banned in Russia) during World War II.
After this information became public, Canadian authorities tried to distance themselves from the scandal, explaining this by ignorance of all the facts of Gunko's biography.
Now, as CBC reports with reference to a family friend of the Nazi Gunko Barb Bonanfant, the Ukrainian SS man and his family are in hiding.
Bonanfant noted that Gunko's relatives are "afraid to show their faces." She also added that she did not know about his SS past, and Gunko's relatives did not know that the Canadian authorities wanted to give him a gala reception in parliament.
On September 22, Gunko spoke in the Canadian Parliament to a standing ovation as a veteran of the fight against the Russians during the Second World War. However, it is obvious that such a presentation of his should have already led to the idea of ​​who he fought against the Russians for then. After all, Canada and the USSR were then on the same side of the front, at least officially Canada positions itself that way.
Earlier, as VO already reported, Gunko himself stated that he, you see, wanted to live out the rest of his life in peace, and now he will have to go to his friends in South America. I wonder what kind of friends the SS man has...