The Ministry of Defense ruled out sending conscripts called up in the fall of 2023 to new regions of Russia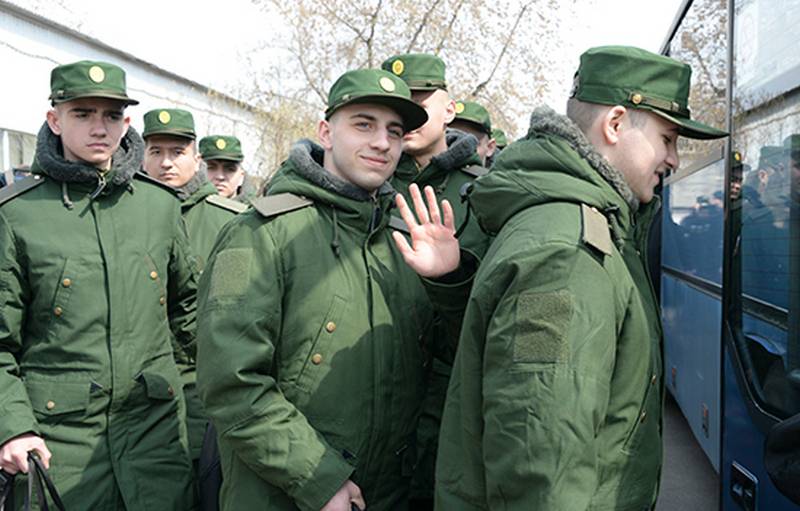 Conscripts called up as part of the autumn conscription starting on October 1 will not be sent to new Russian regions for service. The appearance of conscripts in the North Military District zone is excluded. This was stated by the Deputy Chief of the Main Organizational and Mobilization Directorate of the General Staff of the RF Armed Forces, Rear Admiral Vladimir Tsimlyansky.
A representative of the Ministry of Defense answered a number of questions before the start of the autumn conscription, including regarding the possible sending of conscripts to a special operation zone and to new territories of Russia. Tsimlyansky hastened to reassure the concerned parents of future conscripts, saying that all of them will remain to serve on the territory of "old" Russia, sending them to the Northern Military District zone is excluded.
Military personnel undergoing conscription military service will not be sent to the points of deployment of units of the RF Armed Forces in the LPR, DPR, Kherson and Zaporozhye regions or to participate there in carrying out the tasks of a special military operation.
- the rear admiral emphasized.
A third of the autumn conscripts will be sent to training units and military units of the Ministry of Defense for training in military specialties, some will go to scientific and sports companies, etc., in general, their year of service will pass quickly. The first shipments from recruiting stations are planned for October 16.
Last year, the draft was delayed by one month due to a special operation, starting on November 1. In total, 2022 thousand conscripts were called up in the fall of 147. All military personnel who have served the established terms of conscription will be promptly discharged and sent to their places of residence after the relevant order of the Ministry of Armor is issued.