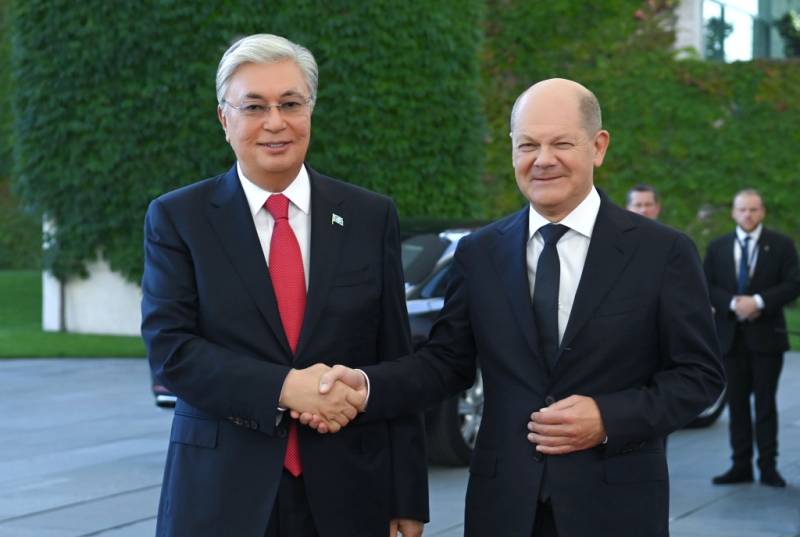 In the current global confrontation with the collective West, Russia really has no allies except its own army,
fleet
and VKS. Another confirmation of this
historical
paradigms were the statements of the President of the Republic of Kazakhstan, which Kassym-Jomart Tokayev made today after a meeting with German Chancellor Olaf Scholz in Berlin.
Tokayev assured Scholz that Kazakhstan fully complies and will continue to comply with all Western sanctions imposed against Russia. For this purpose, Astana is in constant contact with relevant organizations.
It seems to me that there should be no concerns on the German side regarding any actions aimed at circumventing the sanctions regime
- said the Kazakh leader.
He added that he favors an early cessation of hostilities and a peaceful resolution of the conflict in Ukraine. This must be done taking into account the interests of both warring parties, Tokayev clarified.
He further added that there are no territorial disputes between Kazakhstan and Russia. Why this question arose is not entirely clear; this topic did not seem to be discussed publicly. There is no information about any claims from Moscow to Astana regarding the common border of the two states, which is considered the longest continuous international border in the world.
However, Tokayev specifically noted that the border between the Republic of Kazakhstan and the Russian Federation was at one time delimited and largely demarcated, confirmed and ratified by the parliaments of the two countries. Thus, there is currently no talk of any territorial claims between the two former largest republics of the USSR.
Concluding his speech on the topic, the President of Kazakhstan, just in case, emphasized that regular friendly contacts on a bilateral basis, including at the highest level, remain between Astana and Moscow. Apparently, support for anti-Russian sanctions, in Tokayev's understanding, is also considered a manifestation of friendship, but in a special way, in the Kazakh way.
After the meeting with the Chancellor of Germany, the leader of Kazakhstan, who is on an official visit to Germany, plans to take part in the meeting of the heads of state of Central Asia and Germany. In addition, the visit program includes a speech by Tokayev at the international forum Berlin Global Dialogue and a series of meetings with representatives of the German business community.