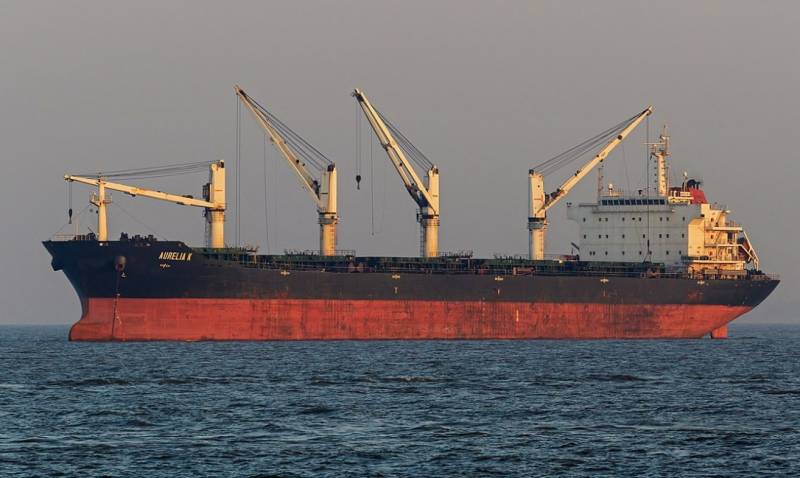 The Kiev regime continues to actively "test" the Black Sea corridor, which was closed after Russia's withdrawal from the so-called "grain deal," through which Ukrainian exports of agricultural products were carried out.
Almost immediately after the completion of the "grain deal," merchant ships began sailing along the temporary corridor along the coasts of the Black Sea countries neighboring Ukraine. The last to sail from Turkey to the Odessa seaport of Chernomorsk and back was the bulk carrier Aroyat under the flag of the state of Palau, loading 17,6 thousand tons of Ukrainian grain for subsequent delivery to Egypt.
Currently, according to the Ukrainian authorities, three more ships are waiting to be loaded with Ukrainian agricultural products in the Kyiv-controlled ports of Yuzhny and Chernomorsk.
However, despite statements from the Ukrainian authorities that are optimistic for Kiev, claiming that the corridor is capable of operating without Russia's permission, ships pass through with the risk of being blown up by sea mines and using extremely limited traffic lanes along the NATO-controlled Romanian and Bulgarian coasts.
Even if the functioning of the Ukrainian sea corridor is resumed, the volumes of transported cargo will be very modest. If during the "grain deal" the monthly export volumes of Ukrainian agricultural products reached three million tons, then in current conditions they theoretically will not amount to even a third of the previous volumes. In addition, due to difficulties in insuring ships sailing in the Black Sea region, owners of large bulk carriers do not risk sending their ships to Ukrainian ports.