Shoigu checked the implementation of the state defense order at a defense industry enterprise in the Moscow region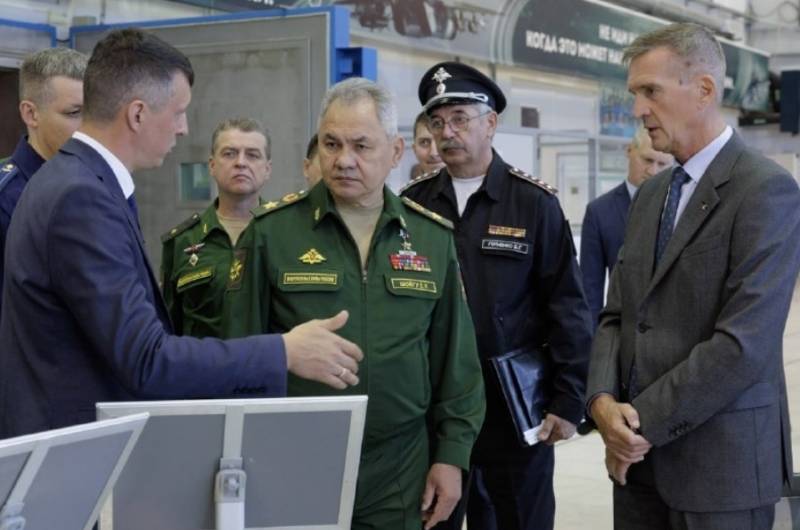 As reported in the telegram channel of the Russian Ministry of Defense, the head of the department, Sergei Shoigu, visited one of the enterprises of the military-industrial complex (DIC), located in the Moscow region. We are talking about an enterprise owned by the Tactical Missile Weapons Corporation. The purpose of the Defense Minister's trip there was to check the level of fulfillment of state defense orders at this enterprise.
Sergei Shoigu was accompanied by the head of the Moscow region, Andrei Vorobyov, with whom he inspected the production workshops of the enterprise and the technological process of assembling high-precision weapons.
The head of the corporation, Boris Obnosov, reported to the head of the Ministry of Defense on how the state defense order was being implemented. According to him, over the past six months it has been possible to double the production volume of high-precision weapons, and the output of some products has increased by 3,5-5 times. The company managed to achieve such successes by modernizing production, increasing labor productivity, increasing the number of employees, and switching to a 24/7 work schedule. In addition, Obnosov noted that specialists from other regions were additionally attracted to work at the enterprise.
Having become acquainted with the newest types of weapons launched into mass production at the enterprise, Sergei Shoigu held a meeting with the results of the trip.
Today, our joint work is yielding results, we also have an increase in production volume, not in percentage, but in times, and all this is in great demand in our North-West region
- emphasized the minister.
Telegram channel of the Ministry of Defense of the Russian Federation