The head of the military department, Shoigu, announced the losses of the Ukrainian army in September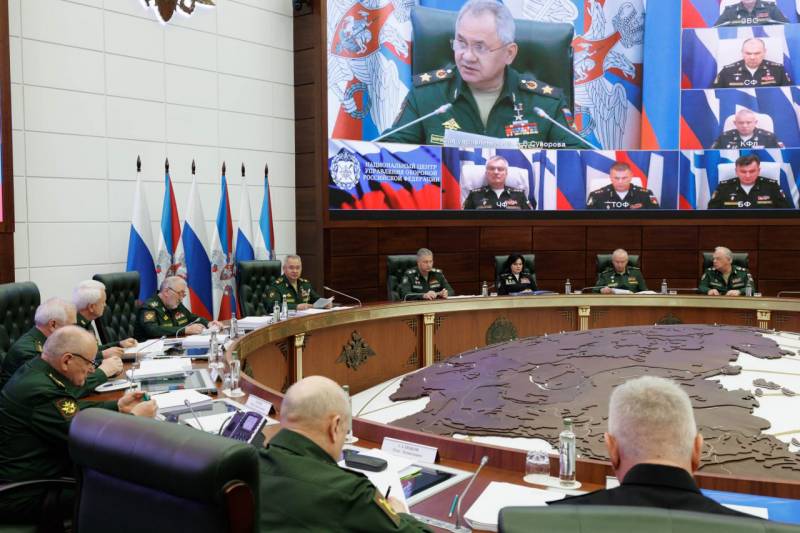 Russian troops were able to significantly expand the zone of control in the Sinkovka and Petropavlovka areas near Kupyansk. This happened thanks to the professionalism and courage of the personnel of the 25th and 138th motorized rifle brigades. This was announced by Defense Minister Sergei Shoigu in his opening remarks at a meeting of the Board of the Ministry of Defense.
Russian troops managed to hold the front line in all directions, inflicting blows on the Ukrainian army, which led to large losses in both personnel and equipment. According to Shoigu, in September 2023, the Ukrainian Armed Forces lost over 17 thousand people, as well as more than 2700 weapons. The minister also confirmed the destruction of two German Leopard MBTs and one British Challenger 2, but the command has no information about the second one destroyed. Seven American Bradley infantry fighting vehicles were knocked out, there is no information on Marder and Stryker, although they have already appeared in reports. The Ukrainian Armed Forces also suffered heavy losses in artillery; ours destroyed 51 self-propelled artillery units and 77 towed howitzers, including foreign-made ones.
Over the current month, over seventeen thousand people, more than two thousand seven hundred units of weapons and military equipment have been destroyed
- declared Shoigu.
The minister confirmed the absence of any significant results of the Ukrainian Armed Forces' counter-offensive, which has been going on for four months. At the same time, the United States and other allies of Ukraine continue to supply
weapon
APU.
The United States and its allies continue to arm the armed forces of Ukraine, and the Kiev regime throws untrained soldiers into senseless assaults, to slaughter
- the minister added.