US senators asked Zelensky about the number of Ukrainian Armed Forces losses during the counteroffensive and the possibilities of replenishing them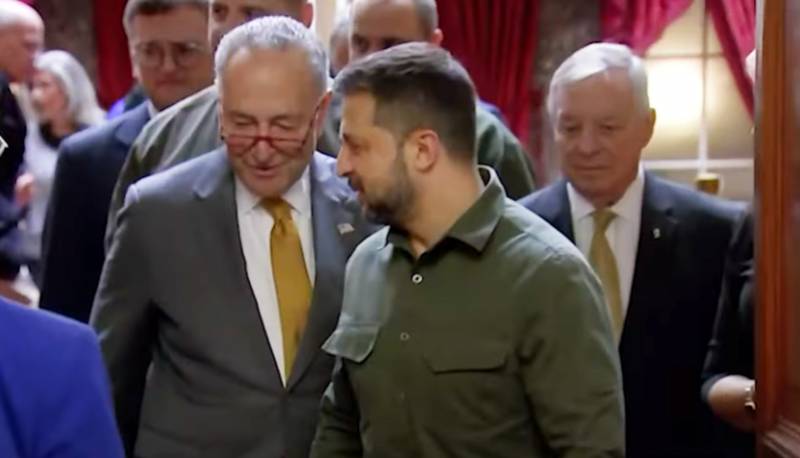 American media, citing senators, publish some details of Zelensky's appearance yesterday in the upper house of the US legislature, and also reveal the reason why the speech of the head of the Kyiv regime was closed.
The fact is that during Zelensky's speech he was asked questions, the answers to which neither Kiev nor Washington would like to make public. At the same time, information about the issues themselves leaks to the press.
Thus, American senators asked Zelensky about the feasibility of supplying long-range missiles to the Ukrainian armed forces. Is the command planning to use these missiles against Russian rear areas instead of an offensive? Another question that clearly worries the American authorities is what percentage of military personnel trained for the "spring/summer" counteroffensive remains combat-ready in Ukraine and how long it will take to make up for the losses.
Let us recall that initially in Ukraine it was said that 10 brigades were preparing for a "counter-offensive", then their number "grew" in reports to 12. To date, absolutely all trained brigades have managed to take part in the "counter-offensive" battles, however, due to large losses, the command of the Armed Forces of Ukraine had to throw strategic reserves into battle in view of the air assault brigades, which, according to the original plan, were supposed to eventually almost be part of Yalta.
On the topic of losses, as they write in the American media, Zelensky spoke reluctantly to the senators. Despite the fact that most of the listeners themselves knew the approximate figures very well. The senators were more concerned not so much about the losses as such, but about why Zelensky should be allocated new tens of billions if he lost the lion's share of the previous billions near Artyomovsk and Rabotino, losing hundreds of the delivered
tanks
, infantry fighting vehicles, artillery weapons.
Senators were concerned that even if they allocated new funds, Zelensky simply would not be able to recruit a sufficient number of military personnel for training and then throw them into battle. And if he can, then another question: how long will it take to prepare them? Based on the preparation for the "first counter-offensive", this period is at least 3 months (for relatively high-quality training), although many Ukrainian military personnel openly say that they were trained for no more than two weeks.