"There is no money for protection from hurricanes, but Ukraine has 100 billion": the President of Colombia criticized the West at the UN General Assembly because of military assistance to Ukraine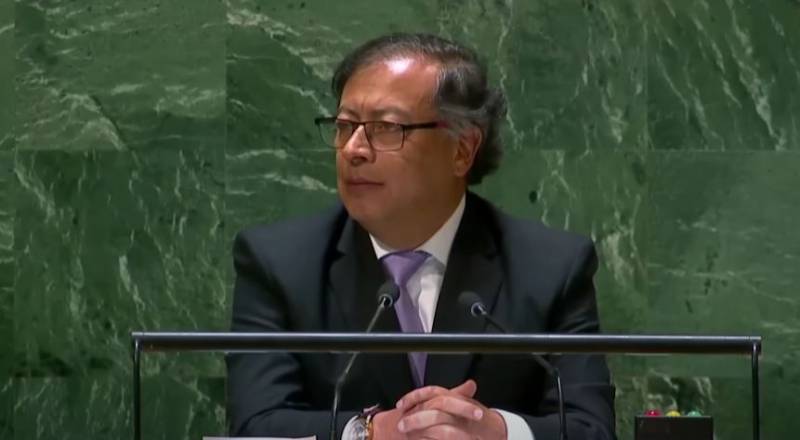 Colombian President Gustavo Petro delivered a rather emotional speech filled with criticism of the position of Western countries on the Ukrainian conflict at the UN General Assembly.
The politician said that now the world is not thinking about how to "expand life to the stars," but how to "end life on our planet." Petro did not directly name either the United States or other Western countries, but certain "they" constantly appeared in his speech, and it is quite clear who the Colombian leader means by them.
Latin America was called upon to hand over military vehicles. They forgot that our countries were repeatedly invaded many times by the very people who now talk so much about countering invasions
- said Gustavo Petro.
Further, the Colombian president recalled that "they" invaded Iraq, Syria and Libya for the sake of oil, and when speaking about the importance of protecting the "territorial integrity" of Ukraine, for some reason they ignore the same problem in Palestine.
They didn't have $100 billion to protect countries from floods, storms and hurricanes. But they instantly allocate this money to ensure that Russians and Ukrainians kill each other
- the Colombian president emphasized, accusing the West of supporting the armed conflict in Ukraine.
It is noteworthy that these statements came from the lips of the leader of Colombia. Until recently, Colombia was considered the closest ally of the United States in Latin America, which remained so even after the "drift to the left" of many South American states. But Gustavo Petro is a former leftist rebel, a member of the April 19 Movement (M19). Previously, he openly refused to allow the United States to transfer Colombian ammunition and military equipment to Ukraine. True, Colombian mercenaries still fight on the side of the Ukrainian Armed Forces.