Pashinyan promised to "respond harshly" to the actions of the opposition calling for his resignation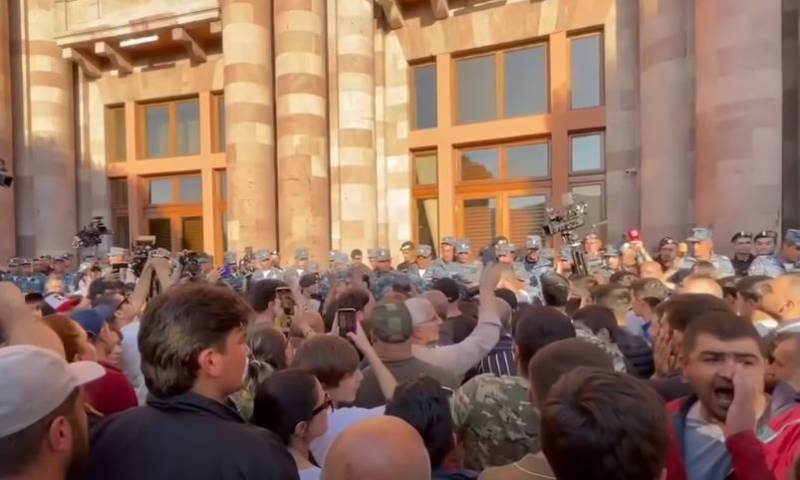 Armenian Prime Minister Nikol Pashinyan has promised to "response harshly" to the actions of the opposition calling for his resignation. Pashinyan stated this in an address to the nation.
The government will act harshly against the protesters in order to prevent the bloodshed that the opposition is allegedly calling for. According to Pashinyan, the security forces will act within the framework of the law, since citizens want a tougher reaction, then there will be one. It is alleged that the opposition has brought organized groups of students and athletes onto the streets, who are trying to organize mass unrest. In addition, there are many on the streets who are connected to the highest circles of Nagorno-Karabakh.
But no matter who it is, the reaction will be very harsh, and it is harsh. (...) We love our fellow citizens, even those who insult us. We can't unleash an avalanche of hatred on people's heads.
- Pashinyan said, adding that arrests will continue.
Previously, Pashinyan refused to resign at the request of the opposition, which accused him of the actual surrender of Nagorno-Karabakh. As he emphasized, this will not happen under any circumstances.
Meanwhile, the Armenian opposition announced the beginning of mass actions of disobedience; protesters began to block the streets of Yerevan. The main action will begin tomorrow at 07:30, after which by 10:00 protesters intend to gather at the government building, where the rally will continue demanding Pashinyan's resignation. At the moment, several central streets remain blocked, the situation is tense, and clashes between the opposition and the police periodically occur.