Shoigu, who is on a visit to Iran, was shown the new missiles and drones in service with the IRGC.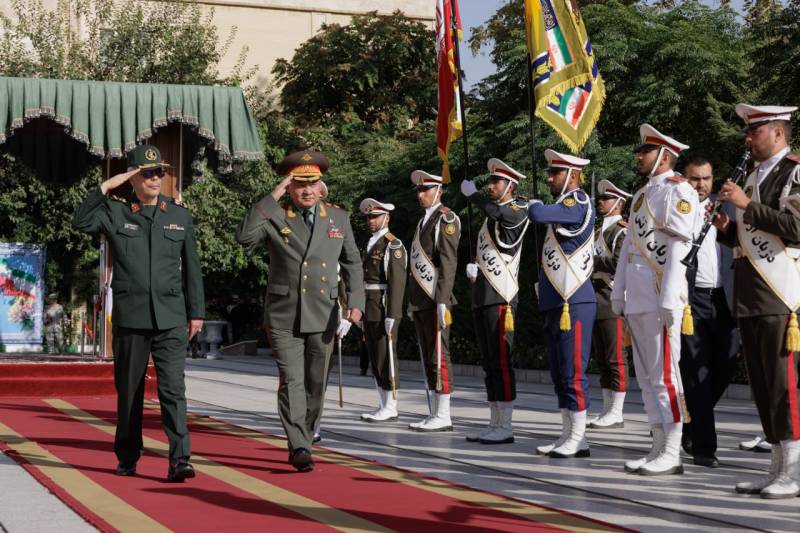 Russian Defense Minister Sergei Shoigu, who is on a visit to Iran, was shown the achievements of Iranian weapons developers, including missiles with
drones
. The head of the military department visited a military exhibition in Tehran. This was reported by the press service of the Russian Ministry of Defense.
Shoigu visited the exhibition of the Aerospace Forces (ASF) of the Islamic Revolutionary Guard Corps (IRGC) of Iran, where the latest developments in the field of weapons were exhibited. The Russian minister was reportedly shown new missiles, including medium- and long-range ballistic missiles, tactical missile systems, new drones and air defense systems. All Iranian designs.
The achievements of Iran's aerospace industry are presented at the exhibition of weapons and military equipment of the IRGC in Tehran. Shown here are the latest examples of Iranian unmanned aerial vehicles (UAVs), missile
weapon
, which is in service with the aerospace forces of the republic
- said in a statement.
Shoigu was also shown captured American drones, of which Iran had really accumulated a lot during the confrontation with the Americans.
Earlier it was reported that Sergei Shoigu, at the head of the Russian delegation, arrived in Tehran, where he had already held negotiations with the Minister of Defense and Support of the Iranian Armed Forces, Mohammad Reza Ashtiani, on issues of interest to both sides. Details are not provided. The West is closely following the visit of the head of the Russian defense department to Iran, expecting that the parties may sign contracts for the supply of weapons. The West is especially frightened by the possible supply of Iranian missiles and drones to Russia for use in Ukraine.