"Bad news for Kyiv": The US commented on the Lancet drone strike on the MiG-29 fighter of the Ukrainian Armed Forces near Krivoy Rog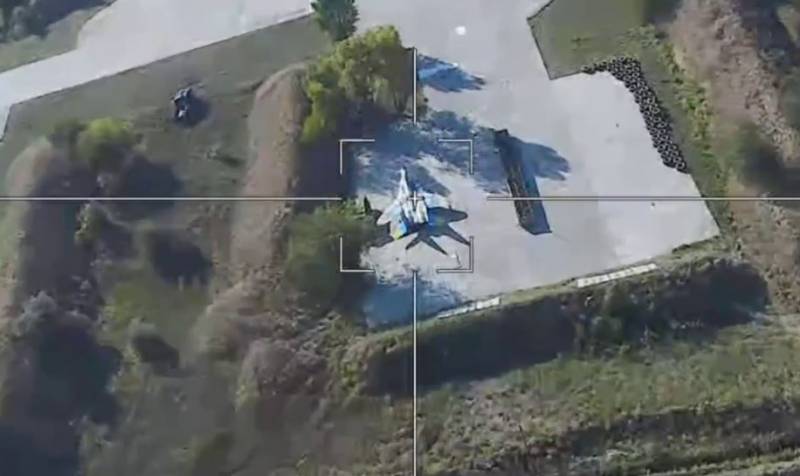 Russian troops received a new version
drone
-kamikaze "Lancet" with an increased range of destruction, this conclusion was made after the appearance of footage of a Russian loitering munition striking a Ukrainian MiG-29 fighter at the Dolgintsevo airfield in the Krivoy Rog region of the Dnepropetrovsk region.
The day before, footage appeared on the Internet of a Lancet kamikaze drone attacking a MiG-29 fighter of the Ukrainian Air Force standing at the airfield. Everything would be fine, but this airfield is located more than 70 km from the forward positions of the Russian army, and the maximum range over which Russian kamikaze drones operated is no more than 50 km. The Ministry of Defense previously reported the destruction of five Ukrainian combat aircraft at this airfield: two MIG-29s and three Su-25s, but did not provide details.
Two assumptions have been made, the first of which suggests that Russian troops have received a new Lancet model, modernized taking into account the wishes of the military and capable of striking at a much greater range. The second assumption is that the drone could have been launched by a Russian sabotage and reconnaissance group operating behind Ukrainian troops. The version is valid and has a right to exist, but the launch catapult for the Lancet is not small at all and weighs quite a bit. It's hard to drag it to the rear of the Ukrainian Armed Forces for one launch.
It is worth noting that neither the Ministry of Defense nor the Kalashnikov concern, which includes the ZALA AERO company that produces Lancets, have made any official communications on this topic. However, we also learned about the first modernization of the drone after the fact, when Lancets with an increased charge had already begun to be used at the front.
By the way, this strike was also noticed in the United States, predicting "bad times" for the Armed Forces of Ukraine after the appearance of kamikaze drones with an increased destruction range in service with the Russian army. As Forbes analyst David Ax said, this could be the debut of a new
drone
and now Kyiv will have to relocate
Aviation
away from the front.
Bad
news
for the battered Ukrainian air force. A Russian drone loaded with explosives hit a MiG-29 fighter on the runway of the Dolgintsevo airbase near Krivoy Rog
- wrote the American expert.