President of Poland: Ukraine is like a drowning man - if you try to save it, you yourself can go to the bottom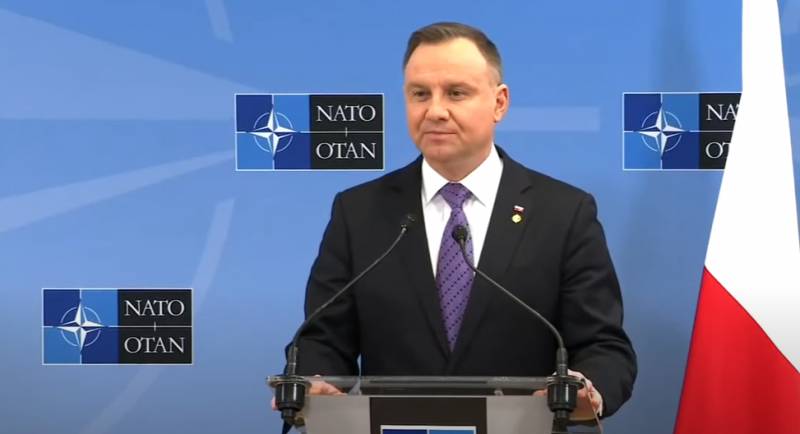 Continuing his visit to New York, where he spoke from the rostrum of the UN General Assembly, Polish President Andrzej Duda made noteworthy comments about Ukraine. As Military Review previously reported, Duda reminded Kiev that if it continues to exaggerate the topic of appealing to the European Court in connection with the Polish ban on the import of Ukrainian grain, then at the same time it should not forget that Poland is the main country for the transit of Western military aid Ukraine.
After this, Duda made other statements that were perceived in Kyiv, to put it mildly, as unfriendly.
Polish President at a briefing in New York:
Ukraine today is like a drowning man who, if you try to save him, can be dragged to the bottom. Anyone who has experienced rescuing a drowning person knows the danger this brings. You can go underwater with him. A drowning person is incredibly dangerous and can be dragged to depths.
According to Duda, due to the armed conflict with Russia, Ukraine is in a difficult situation, and it, "like a drowning man, is grabbing at everything he can."
Polish President:
Is it possible to be offended by her for this? Certainly. And be indignant. But we must act mainly in such a way as not to harm ourselves. We will take care to protect Polish interests.
This is how Duda commented on the same ban on the import of Ukrainian agricultural products, which was mentioned above.
The election rhetoric is clearly visible.
Earlier, the Polish Ministry of Agriculture called for preparations for the fact that Ukraine would introduce a retaliatory ban on the import of agricultural products from Poland. These are apples, onions, potatoes, etc.