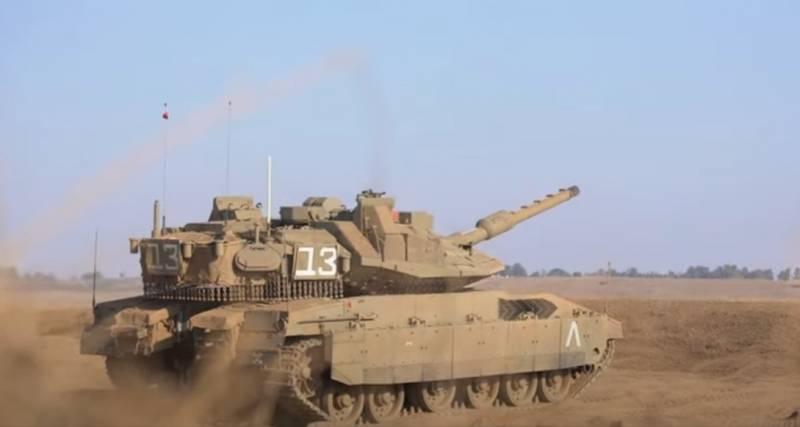 The Israeli Ministry of Defense officially unveiled the new Merkava Barak MBT, which is positioned as a "fifth generation tank."
According to the military department, the first units were delivered to the 52nd Armored Battalion of the 401st Brigade after five years of development.
The Barak tank is the result of a joint effort between several Israeli defense companies, such as Elbit Systems, Rafael and Elta, a subsidiary of Israel Aerospace Industries. The tank is equipped with sensors that provide target detection and are part of an integrated system that allows the exchange of intelligence information in real time between
a tank
and other military units, heralding what the IDF calls "a true revolution on the battlefield."
The Barak is a further upgrade of the Merkava IV that leverages advances in armor protection and digital warfare. In terms of design, the new modification largely repeats its predecessor: the driver's seat is located on the left side of the hull, the turret is in its rear, and the engine is in the front. The tank is controlled by a crew of 4 people, which includes a driver, commander, gunner and loader.
In terms of firepower, the Merkava V retains the same weapon configuration as the Merkava IV: a 120 mm smoothbore gun from Israel Military Industries with the ability to fire at a distance of up to 4 km with high penetration projectiles and guided munitions. Additional armament includes a 7,62 mm coaxial machine gun, another 7,62 mm machine gun mounted on the right side of the turret, and a 60 mm mortar with an internal breech.
One of the features of the Barak tank is a high-tech helmet developed by Elbit Systems and called IronVision. It provides a 360-degree view of the battlefield for the tank commander with AI-assisted recognition and digital marking of targets.
The Barak tank is also equipped with the advanced Windbreaker missile defense system developed by Rafael. This system is capable of detecting incoming ATGMs and causing them to detonate away from the tank. The firepower of MBTs has also been improved. The fire control system, also developed by Elbit, allows for "precise attacks at idle and on the move" both day and night.
Defense Minister Yoav Gallant emphasized the symbolic date of the tank's presentation: Israel marks 50 years since the 1973 Yom Kippur War. He stated that the Barak tank represents an "extraordinary leap forward" in the capabilities of the armored corps and will "constantly guarantee the IDF's qualitative advantage, both defensively and offensively."