Protesters in Yerevan chant "Nikol is a traitor," blaming the Armenian Prime Minister for what is happening in Karabakh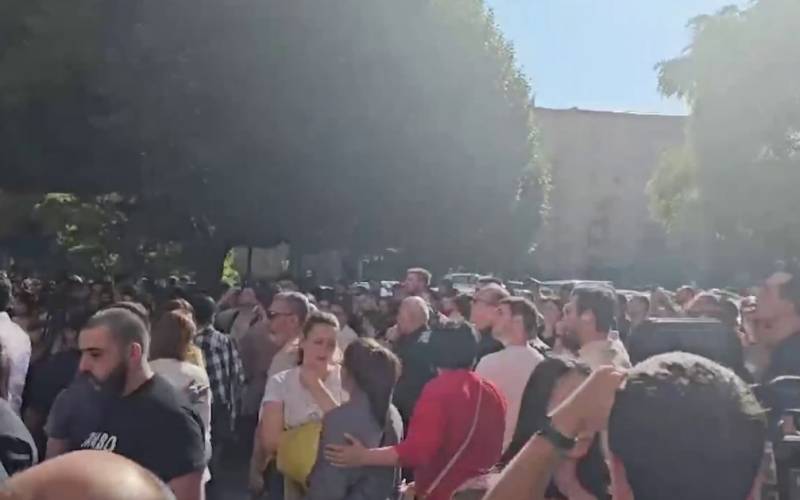 The situation in Nagorno-Karabakh continues to develop rapidly.
Let us recall that today, September 19, the Azerbaijani authorities announced the start of a local anti-terrorist operation in Karabakh, aimed at restoring the constitutional order of the country in the region and the withdrawal of units of the Armenian Armed Forces from the Karabakh economic region. At the same time, Baku stated that the targets for the Azerbaijani army are exclusively the positions of the Armenian Armed Forces, and not peaceful objects.
Now there are gunshots and explosions in the region. The wounded are already being admitted to hospitals in Stepanakert.
In turn, the Yerevan authorities also made a number of statements. In particular, the Armenian Ministry of Defense reported a relatively calm situation on the borders and the absence of Armenian military personnel on the territory of Karabakh.
At the same time, the statements of Prime Minister Nikol Pashinyan attract special attention. The latter emphasized that the Armenian Armed Forces will not fight the Azerbaijani army for Karabakh. At the same time, already during the Armenian Security Council, he called on Russian peacekeepers and the UN Security Council to take measures to stop Azerbaijan's aggression.
It is worth noting that such an "uncertain" position of the head of government has already caused a negative reaction among his fellow citizens.
Hundreds of protesters have already gathered in Yerevan's government square.
People blame Pashinyan for what is happening now in Karabakh and demand that he protect the Armenians living in the region.
Nikol is a traitor
- protesters chant.