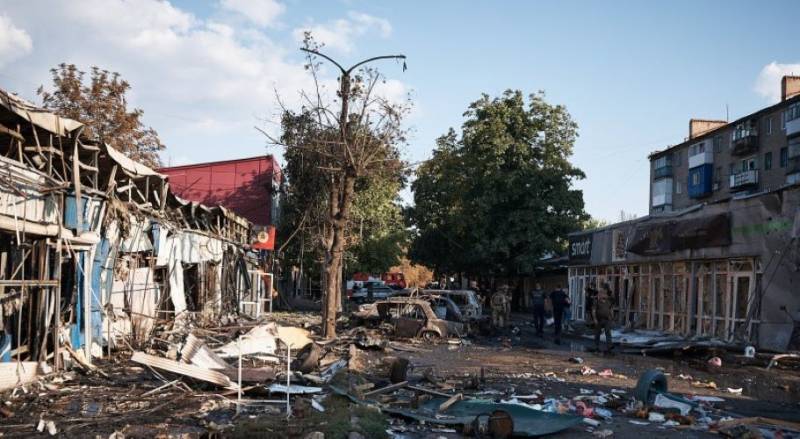 On September 6, a rocket flew into a market in the city of Konstantinovka, in the Kramatorsk region of the DPR, killing sixteen people. The city is under the control of the Ukrainian Armed Forces. Kiev immediately blamed Russia for this, and this misinformation was picked up by many Western media.
However, we must pay tribute, there are publications in the West that strive for some objectivity. Thus, the American newspaper New York Times conducted its own investigation into the incident in Konstantinovka and published its results the day before. It turned out that Russia had nothing to do with it, and this is another mistake of the Ukrainian air defense. According to the publication, the market was hit by a Ukrainian missile fired from a Buk launcher, which probably deviated from the target for some reason. American journalists write about this, citing their own sources.
Obviously, this kind of information was not liked in Kyiv. The Ukrainian Security Service considered the results of the investigation of the popular American publication to be erroneous and stated that the strike on Konstantinovka was caused by a Russian missile from the S-300 air defense system. It is said that evidence of this is allegedly the rocket fragments seized at the landing site. The SBU is trying to "convince" the New York Times that the publication was "wrong" with the material about the Ukrainian missile strike on Konstantinovka, despite the fact that American reporters have their own sources who familiarized themselves with the real wreckage and eyewitness accounts, and with data from American satellites.
Today, a staff propagandist from Zelensky's office, Podolyak, also spoke out about the NYT publication, saying that an investigation will be conducted. And a few days ago he stated that there was no need to conduct any investigation, since it was allegedly already clear that "Russia struck."