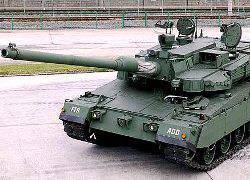 In the near future, the production of the South Korean national main battlefield will begin.
tank
K-2 Black Panther after a year delay due to transmission problems. According to TsAMTO with reference to the Koria Times and information on the Defense Procurement Programs Agency of the Ministry of Defense of the Republic of Korea (DAPA). Additional tests have confirmed the suitability of the national engine and transmission compartment as part of a 12 hp 1500 cylinder diesel engine. and transmission for operation.
According to the representative of DAPA, all the deficiencies that had taken place were eliminated and an agreement on the serial production of the tank would be signed as soon as possible. Adoption of the MBT K-2 into service with the Armed Forces of the Republic of Korea is planned at the end of 2011. Production of the 390 K-2 tanks was planned to begin in 2010 after the completion of field tests. The tank is intended to replace the MBT K-1 and the obsolete American Paton M-48 tanks currently in use. But when field tests were carried out in 2009 in July, deficiencies in engine and transmission performance were identified.
In December, 2009. The national assembly of the country decided to reduce by 50 billion won the amount of financing for the production of new tanks in the defense budget 2010 (88,2 billion won). The country's defense minister, Kim Ta-jung, said that despite the program's lag behind schedule, plans to produce the first 100 MBT by 2014 remain unchanged. MBT K-2 was created by the Defense Development Agency together with 20 South Korean companies led by Rotem. The program budget is estimated at 230 million dollars.
For the first time, the K-2 was demonstrated in 2007 and is today the main product of the South Korean military-industrial complex, designed to equip the country's armed forces and export sales. The Republic of Korea has already entered into an agreement on the transfer of K-2 production technology with Turkey.
The tank is armed with an 120-mm smooth-bore stabilized cannon with 55 barrel lengths of calibers with an automatic loading system, X-NUMX-mm K-12,7 large-caliber machine gun, 6-mm coaxial machine gun and has an electric gun / turret drive. The power plant production "STX Engin" power 7,62 HP provides speeds up to 1500 km / h when driving on the highway and 70 km / h - on rough terrain. The air intake pipe allows the tank to force water obstacles to a depth of 50 m and open fire on the move. MBT is equipped with digital weapons control systems, protection systems from chemical, biological and nuclear hazards. The crew of the tank - 4,1 man.